'The Hillary Step is no more': Mt. Everest's famous rock barrier found to have disappeared
Published time: 21 May, 2017 20:13
Edited time: 21 May, 2017 20:17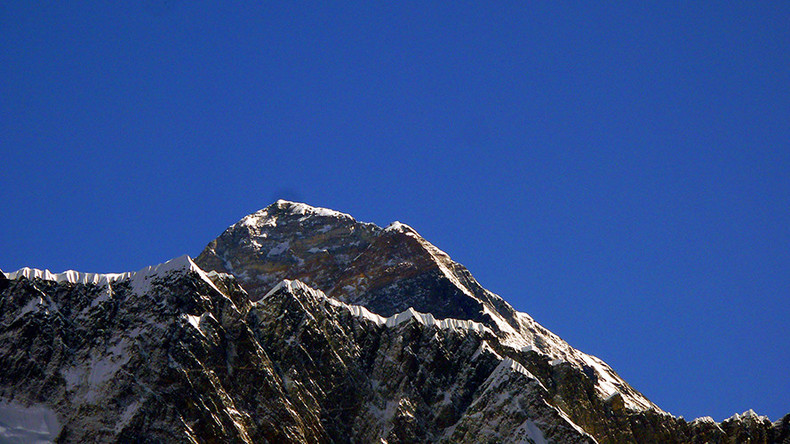 A famous rocky outcrop near the summit of Mount Everest has collapsed, damaging the chances of the next generation of climbers hoping to reach the top of the world's highest peak.
British mountaineer Tim Mosedale, who is currently leading an expedition on Everest, confirmed the news on Facebook: "It's official – The Hillary Step is no more. Not sure what's going to happen when the snow ridge doesn't form because there's some huge blocks randomly perched hither and thither which will be quite tricky to negotiate."
It is thought that the slope now in place of the rock barrier will make it easier for climbers to scale. Historically, though, the area has been the site of long queues of climbers – and mountaineers are worried the slope could create a bottleneck for those already battling low oxygen and frostbite.
The American Himalayan Foundation posted pictures online in May 2016 that seemed to suggest the Step, although covered with snow, had changed shape. Now, with less snow on the mountain this year, it's clear the outcrop is gone.
"Having been up it a few times, and getting there this year, it's obvious that the feature is no longer there," Mosedale said in an interview with planetmountain.com.
"Just rubble and debris where the tricky features used to be," he added.
Speaking to the BBC, Mosedale, who recently reached the summit of Everest for the sixth time, said he thought the feature had come apart following the Nepal earthquake in 2015.
"It could well just be gravity," he said. "But I would suspect the earthquake was the cause."
The outcrop was named after legendary mountaineer Sir Edmund Hillary. Hillary and his climbing companion Tenzing Norgay became the first men to scale Mount Everest in 1953.
The news follows reports that an American climber died on the mountain Sunday.
Roland Yearwood, 50, from Alabama, reportedly died at an altitude of about 27,500ft (8,400 meters) in an area known as the "death zone" for its thin air.
Yearwood's death is the third on Everest this month and comes one day after Indian climber Ravi Kumar went missing in the same area during his descent from the peak.
"Three sherpa rescuers have been sent to search for Kumar," Thupden Sherpa of the Arun Treks and Expedition company told Reuters.
Earlier this month, an 85-year-old Nepalese man died while trying to reclaim the title of oldest person to climb the world's highest peak.
Last month, climber Ueli Steck, nicknamed the Swiss Machine, fell 1,000 meters (3,280ft) to the foot of Mount Nupste, a smaller peak in the Everest region, while acclimatizing ahead of his bid to traverse a new Everest route.