Kitty amazing: This enormous cat is more than 1.2 meters long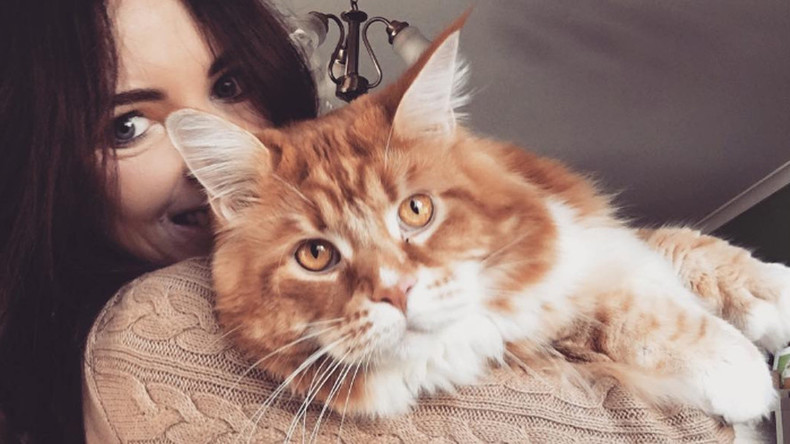 A huge house-cat which weighs 14kg and eats raw kangaroo meat for dinner has become an internet sensation after shooting to fame on Instagram. There has even been an approach by the Guinness Book of World Records.
Attention around Omar began when his Melbourne owner Stephy Hirst uploaded a picture of the massive moggie to the exceptionally popular 'cats of instagram' account which, unsurprisingly, is dedicated to all things feline and has a whopping 8 million followers.
The Maine Coon breed of cat now has his own personal Instagram account with 16,000 followers – a figure sure to leave many social media enthusiasts green with envy.
Hirst claims that when she last measured Omar he was an astonishing 120cm (3ft 11in), which would beat current record holder and a fellow Maine Coon from Yorkshire England, by a full 2cm.
Hirst told Australia's Herald Sun newspaper: "At first I thought 'is this real? We thought he might be (the longest cat in the world) but we hadn't done anything about it because he might not be fully grown yet," she added.
Hirst and her partner Rowan Lawrence got Omar when he was a kitten, not knowing there was anything different about him. "[Omar] was tiny when we got him," she said – "but then he just started growing and was 10kg at one year old," she added.
In spite of his size Omar enjoys all the same activities of the average kitty.
"He likes to hide in small places like the kitchen cupboard," Hirst explained. Although "he sleeps on the couch ... because he takes up too much room on the bed and he demands we cuddle and pet him all through the night."
For now Omar will have to be content with his fame, but once the people from the Guinness Book of World Records get proof, he can take his place on the throne as the world's longest cat.