Indestructible phone: Italian luxury brand to make titanium Nokia 3310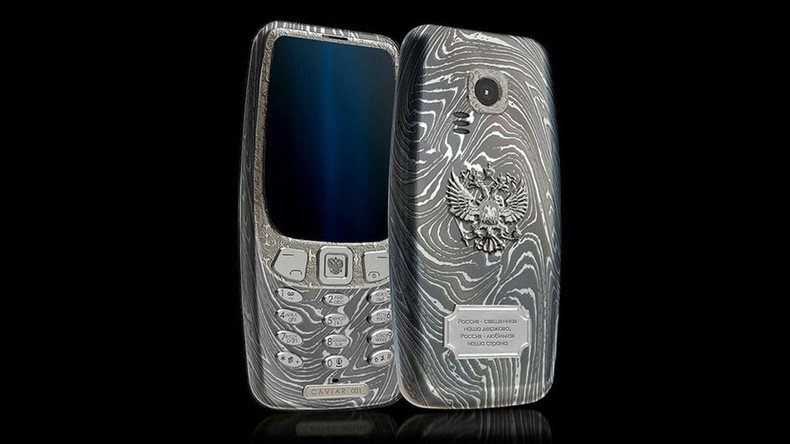 The Italian brand Caviar, which produces luxury smartphones made of precious metals, has introduced a new restyled Nokia 3310 sporting a titanium case that it is hawking as "the sturdiest cellphone in the world."
Caviar has begun to accept pre-orders for its exclusive models of the "resurrected" Nokia 3310 cellphone, which became legendary in the 2000s for its "indestructability" and long battery life.
"The big, weighty, powerful, pushbutton cellphone with its exclusive limited titanium case is to become arguably the most enduring and sustainable phone in the world," the company said on its website.
Titanium is a strong metal, which is recognized for its high strength-to-weight ratio and a relatively high melting point. It is used in a wide range of fields, from aircraft engineering and rocket science to medicine.
The company said the titanium case is "a tribute to the famous indestructability of the phone." The phone's metal-clad case made of hardened titanium will be covered with a pattern mimicking Damascus steel, Caviar said in a press release seen by the Russian media.
"Nokia's pushbutton cellphones are not just a trend; it is a conscious choice of specific people who do not need this permanent technological race. They need a convenient and reliable man's phone that can make and receive calls instead of taking photos of food," the press release said, ironically referring to the Instagram obsession.
Caviar also specifically pointed out that this phone cannot be wiretapped, making it a suitable accessory for top state officials.
The company has revealed three models. One is decorated only with the Damascus steel pattern, but the other two also bear the Russian coat of arms and a plate featuring the first lines of the Russian national anthem, made from gold or white gold.
The price of luxury gadgets varies from 119,000 to 147,000 rubles ($ 2,100 and $ 2,590). Sales are expected to begin in June of 2017.
Caviar had already seized the opportunity to exploit the famous Nokia phone's re-launch by introducing another model of this phone in March that has a golden Putin portrait slapped on it.
Nokia announced that it had decided to "resurrect" its almost "indestructible" 3310 model in February – 17 years after its debut – to "reward loyal Nokia phone fans." The reinvented classic was unveiled in Barcelona alongside some of Nokia's more up-to-date options – the Nokia 3, 5, and 6.
The re-launched phone boasts an impressive 22 hours talk time and one month of standby time. However, it has only limited internet capabilities and just a two megapixel camera. According to HMD Global, the new version "will retail at an average global retail price" of €49 ($51).
Caviar, which was founded by an Italian jeweler, now focuses strongly on the Russian market. The company has long been known for restyling Apple products, and it also often offers luxury variants of smartphones furnished with portraits of Russian President Vladimir Putin, as well as the leaders of other post-Soviet countries.
After Donald Trump became US president, the company's designers created several iPhone 7 and iPhone 7+ models featuring a portrait of the country's new leader.
The luxury brand also recently introduced a limited golden edition of the iPhone 6S featuring a portrait of the Head of the Russian Republic of Chechnya, Ramzan Kadyrov.
You can share this story on social media: