Golden Putin Nokia 3310 to hit market at 3,000% usual price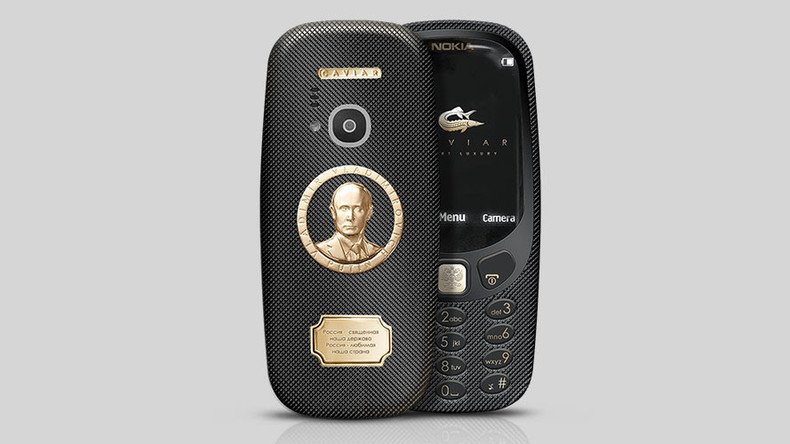 The Italian brand Caviar has jumped at the opportunity to exploit Nokia's recently relaunched "indestructible" 3310 model by slapping on a golden Putin portrait. The company plans to sell the restyled icon for €1,600 instead of the suggested €49.
"The return of the cult Nokia phone couldn't have gone unnoticed, so Caviar designers immediately created their version of the 3310, adding gold, luxury, style, and true Russian character to it," the description on the company's website reads.
Caviar pitches its product by focusing on the 3310's widely-known advantages: its sturdiness and long battery life.
"Remember when you could leave the house without a charger? Well, with the new Nokia 3310, you can," Nokia's official press release promised.
While the 2017 phone's most disappointing aspect might appear to be its lack of WiFi, Caviar casts that drawback in a cheeky light, claiming the deficiency allows you to get out from under the pressure of information flow, which is "often negative and unnecessary."
READ MORE: $25k golden Orthodox phone with no internet access goes on sale in Russia (VIDEO)
Though the reintroduced 3310 may have an extremely limited feature set compared to that which most smartphone users of the new millennium expect, Caviar's final observation on their "golden" version may just hit the mark:
"We have created a perfect phone for you: sturdy, stylish, expensive, capable of holding battery charge for a long time, and with a loud signal. Sometimes, that's all one really needs."
READ MORE: Price of patriotism: Golden 'Putinphone' on sale for over $4,350
The company, which focuses strongly on the Russian market, has long been known for restyling Apple products that come at a higher price and shine even brighter.
You can share this story on social media: