100yr countdown to extinction? Hawking believes humans need to colonize new planet… or else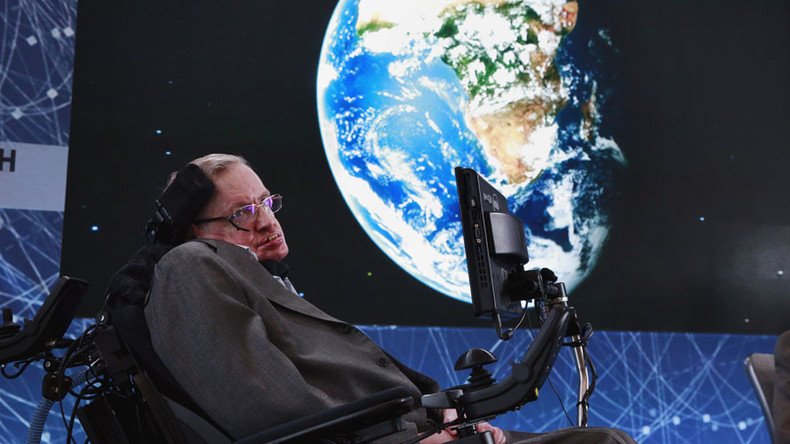 Stephen Hawking appears to be at pains to warn the world that humanity is doomed. His latest prediction urges mankind to escape an ailing Earth for a fresh start on a new planet… before it's too late.
The renowned astrophysicist will present his chilling forecast, which sounds like the plot of a Hollywood blockbuster, in a new BBC documentary entitled Expedition New Earth that is currently still in production.
In the program, which is part of the BBC's Tomorrow's World science season, Hawking will posit that humanity's time on Earth is coming to an end, while warning that there are only 100 years left to "colonize another planet."
READ MORE: Stephen Hawking among 33 scientists on offensive against critics of popular universe origin theory
Hawkings terrifying prediction for the time left to mankind on earth is dramatically lower than that which he cited at an Oxford Union society lecture last year, when he said an exodus within 1,000 years was imperative if it was to survive.
"I don't think we will survive another 1,000 years without escaping beyond our fragile planet," the 74-year-old told his audience at the time.
Last month, the celebrated academic also struck fear into delegates at the Global Mobile Internet Conference in Beijing, when he said humans could one day be superseded by super smart computers.
"Computers can, in theory, emulate human intelligence and exceed it. So, we cannot know if we will be infinitely helped by AI or ignored by it and sidelined, or conceivably destroyed by it," he said.
READ MORE: Humans won't survive 1,000 more years without escaping 'fragile' Earth – Hawking
"I fear the consequences of creating something that can match or surpass humans. AI would would take off on its own and redesign itself at an ever-increasing rate. Humans, who are limited by slow biological evolution couldn't compete and would be superseded," he added.
"Whether it's the rise of robotics or the demise of antibiotics, traveling to Mars, or the arrival of 3D printed food. Science is changing the world at an extraordinary pace," said Tony Hall, the BBC's director general, about the upcoming science season, which aims to "connect audiences with the brightest minds and institutions in science and technology."
You can share this story on social media: