Humans won't survive 1,000 more years without escaping 'fragile' Earth – Hawking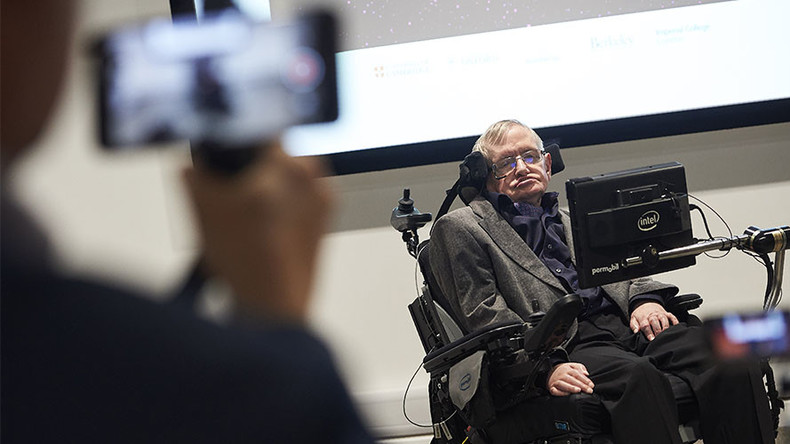 The human race will not survive another 1,000 years if it cannot escape "fragile" Earth, physicist Stephen Hawking warned during a lecture on the universe, saying we need to expand beyond our planet.
Speaking at the Oxford Union debating society, Hawking said it is necessary to "continue to go into space for the future of humanity."
"I don't think we will survive another one thousand years without escaping beyond our fragile planet," he said, as quoted by The Independent.
Hawking's remark comes after he estimated in January that human colonies on Mars would not be built for another 100 years, stressing that the human race must be "very careful" in the time leading up to that point.
During his lecture, the 74-year-old also commented on the work of humans coming "this close to understanding the laws that govern us and the universe," calling it a "triumph."
Reflecting on those achievements, Hawking described the present-day as a "glorious time to be alive and doing research into theoretical physics."
He also noted his own accomplishments – albeit in a rather humble way – by saying he is happy if he has made a "small contribution" to the changing picture of the universe that has taken place over the past 50 years.
Looking to the future, Hawking spoke of "ambitious" goals, saying "we will map the position of millions of galaxies with the help of [super] computers like Cosmos. We will better understand our place in the universe."
The Cosmos, one of the world's largest shared-memory Supercomputers, is located in the Stephen Hawking Centre for Theoretical Cosmology (CTC) at Cambridge University.
Parting on an inspiring note, Hawking encouraged those in the audience to "remember to look up at the stars and not down at your feet."
"Try to make sense of what you see, wonder about what makes the universe exist. Be curious. However difficult life may seem, there is always something you can do and succeed at. It matters that you don't just give up," he said.
You can share this story on social media: