Special convoy bike cop wipes out in embarrassing London smash (VIDEO)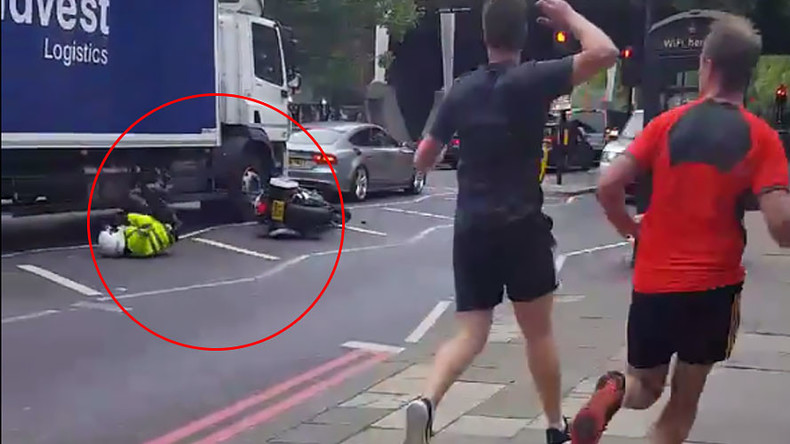 Video footage of a motorcade speeding through the streets of London has perfectly captured the moment a motorbike cop seemingly lost control and tumbled off his vehicle in an embarrassing crash.
Usually streaking through city streets at high speeds, police-escorted convoys can seem coordinated and impenetrable. However, a recent pratfall from a London cop shows that they're far from infallible.
The escort was travelling past Waterloo Bridge in London when the hapless cop flew off his bike. He skidded across the tarmac while the rest of the escort, which was carrying an unnamed visiting dignitary, sped past.
The police officer was not seriously injured and quickly got back on his feet.
Onlooker Ian Jobe captured the entire incident on camera. According to The Mirror the Portsmouth man said: "I saw it coming so thought I would video it and show the other half [his partner] when I got home.
"Then as they all went through, the first outrider, who was had cleared the way for them, tried to catch up.
"He over revved and it all went wrong so he ended up going over the handlebars. The final vehicle pulled over and helped him but he got up by himself.
"We were all going to get out and help him but there were a few officers in the end vehicle and we all thought they probably knew more than us and had a first aid kit so we left it to them."
A spokesperson for the Metropolitan Police confirmed to RT.com that the rider was from the 'Special Escort Group' but would not reveal who was being escorted.
The Special Escort Group provides armed motorcycle escorts for members of the Royal family, protected members of the British government, heads of state and other visiting dignitaries.
"The rider was part of a convoy for a visiting dignitary at the time and the incident occurred on Victoria Embankment, SW1," the spokesman said. "The officer suffered minor injuries but did not require hospital treatment. The fall did not cause any disruption to the convoy."
Jobe's Facebook video has been viewed more than 7 million times and has generated over 76,000 shares.