Breastfeeding senator breaks taboo, makes history in Aussie parliament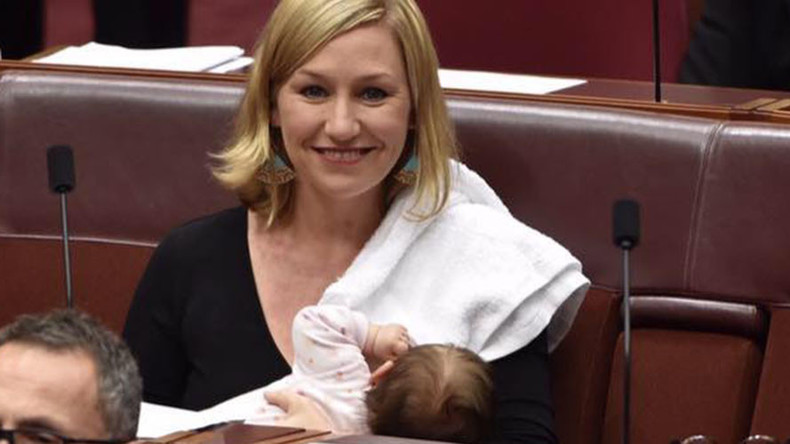 An Australian senator has made history, while causing a few heads to explode, by breastfeeding her baby in parliament.
Instead of breastfeeding on the job, maybe she could've stayed home with her infant child like a decent mother.

— Kitten Nationalist (@cationalism) May 10, 2017
@cnni Kudos! Here's to many women reforming the world and making it a better place.

— Aisha G (@DistinguishedAG) May 10, 2017
@ndtv It is be done in private room not in the senate. One has appreciate for her care to her baby.

— Adv.P.Sathya Prakash (@sathya_adv) May 10, 2017
Greens Senator Larissa Waters nursed her two-month-old baby in parliament during a vote on Tuesday.
Waters, co-deputy leader of the Greens, introduced changes to the Senate last year to allow female lawmakers to briefly care for infants on the parliament floor. The House of Representatives followed suit.
Waters shared a photograph of Victorian MP Kirstie Marshall on her Facebook page. In 2003, Marshall was removed from Victoria's parliament for breastfeeding her baby.
"In 2003 Kirstie Marshall a Victorian MP was ejected from State Parliament for breastfeeding her 11-day old baby girl," Waters said.
"Sometimes it's difficult not to get disheartened by the sexism women still face in the workplace. But sometimes it pays to look back and see how far we have come," she added.
Parliament rules were amended later that year to allow breastfeeding, but Waters is the first to take advantage.
While Waters made history in Australia, some European parliaments have already seen women breastfeeding their children.
Last October, Icelandic MP Unnur Brá Konráðsdóttir nursed her child while addressing parliament during a debate.
@cnni Imagine if this happened here in US with the bunch of male 🐷🐷🐷🐷🐷we have. OMG Pencey would have to leave the planet!😂🤣😂🤣😂

— Nancy Zottos (@NancyZottos) May 10, 2017