Strangers vow to attend funerals of WWII vets who passed away with no family to mourn them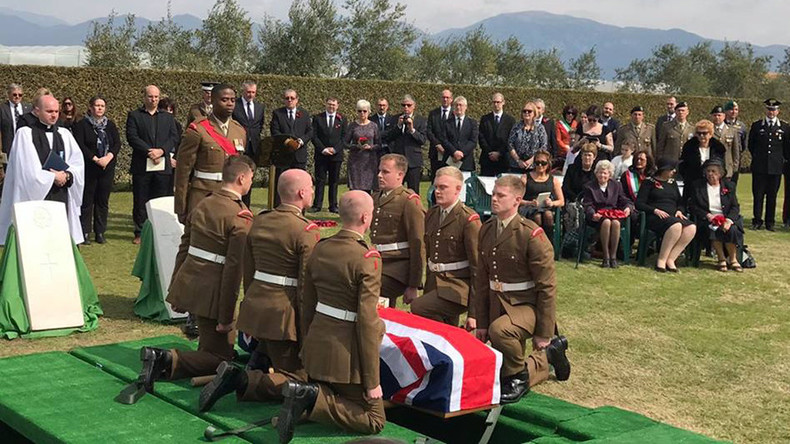 The online community is eagerly responding to calls to attend the funerals of a 96 year-old WWII veteran who passed away without any close living relatives, and a 93 year-old navy soldier involved in the D-Day landing, who died as the world celebrates the 72nd anniversary of the defeat of Nazi Germany.
Harry Wheeler, 96, passed away at a care home in Macclesfield on Monday "without a soul in the world" to remember him. To honor the life of the Royal Marines WWII veteran, Harry's friends launched a Facebook campaign asking anyone with an open heart to attend the funeral service.
"Harry, who was in the Royal Marines during WW2, has no family to mourn him so friends are hoping that some local residents will join them to pay their respects at his funeral on Thursday 18 May," a Facebook campaign created on behalf of 'Veterans Honored' reads.
Wheeler, who fought in Italy during World War II, returned home to Wilmslow where he remained for the rest of his life. Married to his wife Enid for over 50 years, the 96-year-old master carpenter managed to outlive his spouse and his only daughter Susan.
"He has no family to mourn him – not a soul in the world. A few extra faces to fill the pews would be a wonderful support to us and much appreciated please," one of his friends noted.
Following the Facebook plea that quickly spread across Twitter, a number of social media users have promised to attend the service and help spread the word further.
"A few of us will be going to his funeral and I hope a few more can make it," Ellen Newall, deputy manager of Macclesfield care home, told the Macclesfield Express. "He deserves a nice send off."
As the world celebrates the 72nd anniversary victory over Nazi Germany, another World War II soldier passed away in Britain recently without hardly anyone noticing.
John Craig, 93, who survived the Arctic convoys and the D-Day landings will have no family at his funeral at Cambridge Crematorium on Wednesday.
Craig's wife died a few years ago and with no other family close by, the Royal Naval Association has been urging social media users to attend his funeral.
"It's terribly sad that after all he went through on the Arctic convoys and on D-Day, there would be no one at his funeral, so we have been asking people to attend," Keith Ridley, national chairman of the Royal Naval Association, told Cambridge News. "As well as ourselves, we have heard from the Royal British Legion, who are asking their members to go along."