Art critic or 'jerk'? Man slashes $3mn painting (PHOTOS, VIDEOS)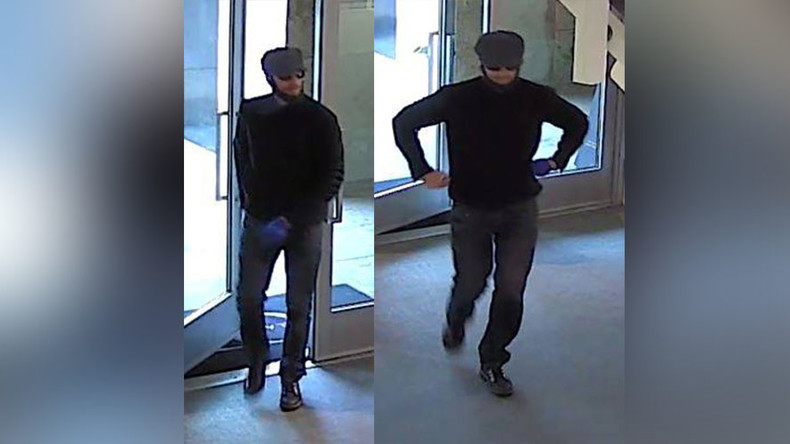 An unidentified assailant slashed a wall sized painting in an Aspen art gallery, destroying the work of art worth nearly $3 million.
Surveillance footage released by the Aspen Police Department shows a mysterious art critic wearing sunglasses, a hat, and full beard entering the Opera Gallery in Aspen, Colorado last Tuesday before he casually walked up to the multi-million-dollar painting, slashed it twice with some kind of blade, and scurried off.
The painting, a work by American artist Christopher Wool entitled 'Untitled 2004', was destroyed as a result.
The act of vandalism seems premeditated, as the perpetrator places a block of wood in the door to prevent it from fully closing and makes a bee-line straight for the Wool work, ignoring the other paintings in the gallery, which include works by Spanish legend Pablo Picasso. He is also seen wearing a blue glove on his left hand, with which he touches the gallery door.
"It's crazy," gallery owner Gregory Lamhi told the Aspen Times, adding "First of all, I'm shocked for the work of the artist. It's ugly to do that to (the painting)."
Lamhi added that he has no idea what the motive behind the attack might have been, but said that, in recent weeks, he had received three suspicious calls from an unidentified man using a blocked number who enquired about whether the Wool painting was at the gallery.
"On it's face, it's extremely suspicious. There has to be a reason someone would want to destroy this painting," Aspen Detective Jeff Fain said.
Aspen PD called the man "a jerk" in a Facebook post and released stills from the surveillance tapes in the hope of tracking down the vandal, who is still on the loose.
The owners have yet to be identified, but it is believed that the painting's value had increased fivefold since they purchased it. Natalia Sacasa, director of the Luhring Augustine Gallery in New York that handles Wool's works, offered her sympathy.
"It sounds like a really terrible thing to happen. We feel badly for the owners of the painting and have offered to help if we can," she said.