Freaky Ostrich-like running robot built for 'planetary exploration' (VIDEOS)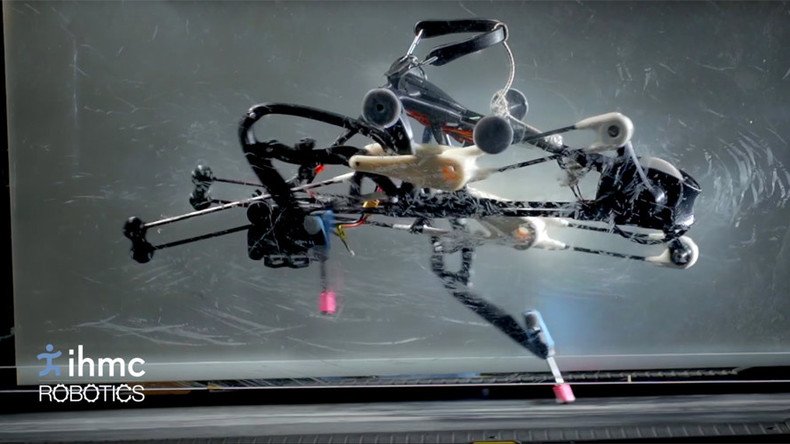 It may look like an ostrich cantering over the ground, but the Planar Elliptical Runner could become the model for a human-sized running robot – and even aid "planetary exploration."
Developed by the Institute for Human and Machine Cognition (IHMC) in Pensacola, Florida, the machine's fluid locomotion has drawn comparisons with the flightless bird.
READ MORE: Smart traffic: China introduces lane-changing robots to ease infamous gridlock
Speaking to Digital Trends, research associate Johnny Godowski said: "It's emulating what you see in nature. Birds are able to run over holes and obstacles half their leg height, and they don't even break stride. Our robot mechanism is designed to do the same thing."
Unlike other two-legged robots, it does not use computer sensors to balance itself. Instead a single motor drives the machine's two legs while a side-to-side motion keeps it upright. The robot is also guided by a standard radio controller, meaning it does not waste battery power.
The robot can reach speeds of up to 10mph (16kph) – but researchers believe a human-sized machine could one day hit speeds of up to three times that of its smaller counterpart.
Jerry Pratt, a senior research scientist at IMHC, told Technology Review: "We believe that the lessons learned from this robot can be applied to more practical running robots to make them more efficient and natural looking.
"Robots with legs will be particularly useful in places where you want a human presence, but it's too dangerous, expensive, or remote to send a real human. Examples include nuclear power plant decommissioning and planetary exploration."
In 2013, Pratt led a team to second place in the DARPA Robotics Challenge, a US Defense Department contest testing robots' abilities to perform a series of tasks in extreme environments.
Other robotics firms are hoping to make breakthroughs with their own two and four-legged machines.
In February, Agility Robotics unveiled Cassie, another ostrich-inspired bipedal creation, while Honda continues to market their humanoid robot ASIMO.
Meanwhile, Pratt's team is working on a number of biped projects. IMHC showcased these advances at their annual Robotics Open House in Florida last month.
You can share this story on social media: