The final frontier: China plans to build manned space station in 2019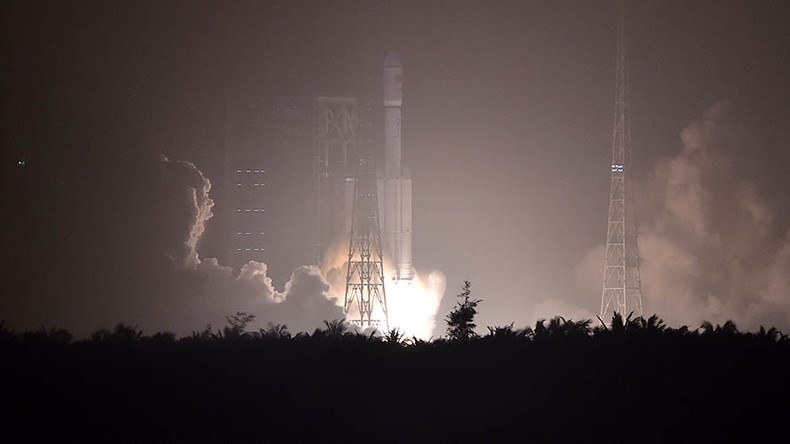 China will reportedly begin building a permanent manned space station in 2019, a move likely to increase Western fears over the country's space capabilities.
The Chinese space agency successfully refueled its Tianzhou-1 cargo spacecraft in orbit on April 20. The vessel, which can reportedly carry six tons (metric) of goods, two tons of fuel and fly unmanned for three months, also docked with the Tiangong-2 space laboratory two days later.
READ MORE: China's cargo spacecraft docks with orbital laboratory for 1st time
"This again announces the ambition and aspiration of the great rejuvenation of the Chinese people, and our resolute confidence in becoming a major space power," the space station project's supervisor Wang Zhaoyao told a news briefing in Beijing on Thursday.
"After completing experimental stage spaceflight missions, we will enter the development and construction phase. According to our plans we will carry out the assembly and construction of China's manned space station between 2019 and 2022."
The US has previously expressed fears over China's technological advancements.
In October, Robert Walker and Peter Navarro, advisers to Donald Trump, then-candidate for the US presidency, said a lack of investment in space security means the US is falling behind China.
Writing in Space News, the pair said: "America's space program is suffering from significant under-investment ... Meanwhile, China and Russia continue to move briskly forward with military-focused space initiatives. Indeed, each continues to develop weapons explicitly designed, as the Pentagon has noted, to 'deny, degrade, deceive, disrupt, or destroy' America's eyes and ears in space."
China was also excluded from the International Space Station over US objections to its space program's perceived links to the country's military.
China, meanwhile, maintains it has "peaceful motives" for space exploration.
The success of the Tianzhou-1 mission follows an announcement that both Chinese and European space agencies are planning to construct a joint base on the moon.
Pal Hvistendahl, a spokesman for the European Space Agency (ESA), told Bloomberg: "The Chinese have a very ambitious moon program already in place. Space has changed since the space race of the '60s. We recognize that to explore space for peaceful purposes, we do need international cooperation."
Groundwork for the 'Moon Village' mission will begin in November when China plans to send a lunar probe to the moon to retrieve rock and soil samples, according to state media. The Chang'e-5 mission will be China's first ever attempt at sample retrieval in space.
It's thought the base, which could act as a stop-off point on a journey to Mars, will be constructed using advanced 3D printing techniques.