Finland withdraws 'tasteless' collector coins depicting civil war execution & drowned refugee kid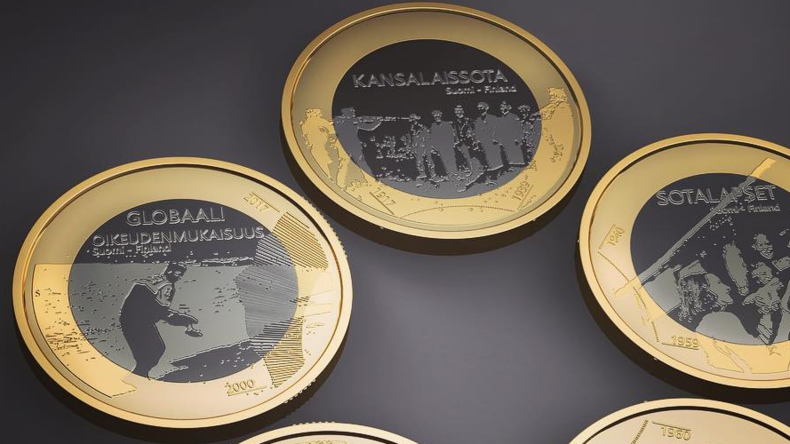 A series of five-euro coins depicting a gruesome scene from the Finnish Civil war and a drowned Syrian refugee kid, designed to honor the centenary of the country's independence, have raised a few eyebrows, including of those in charge. The Finance Minister apologized and withdrew the coinage.
"To my astonishment I discovered that the Mint of Finland had designed commemorative coins, on which there is what I see as a very tasteless picture. I don't understand how it matches the spirit of Finland's 100th anniversary – in any way at all. I actually hope that this coin will be withdrawn," finance minister Petteri Orpo said on Tuesday, as Yle reports.
Having admitted he hadn't paid sufficient attention to the visual component, the minister said he trusted the artistic committee in charge of the coins' design.
Orpo apologized for the incident and initiated the coins' repeal, according to the ministry's press release.
To celebrate its hundred years of independence, the Finnish Mint was to release five coins, each representing two decades of that period.
Designer Ilkka Suppanen, who came up with the idea, intended to show different events of that time; one of the achievements and the other of the challenges that Finland has faced.
Speaking of the controversial coin, Suppanen insisted it is "not a celebration of the civil war,"adding that it "highlights the fact that Finland pulled through this difficult period."
However, the designer's idea was met with disapproval from Finns when the mint posted images of the coin on its Instagram page.
Another coin in the series sparked fury among social media users. The coin, named 'Global security' shows a rescue worker holding the body of 3-year-old Alan Kurdi who drowned in the Mediterranean in 2015 on his escape from Syria.
"Is it a joke?", "How did this vulgar commemorative coin go through? Ew. Sick," some commented.
The Finland Mint has apologized in a statement, saying it "regrets all the bad feeling caused by the images," and reassured the public that none of the coins, which caused outrage, had been released.