First wild bison calves born at Canadian park after 140 years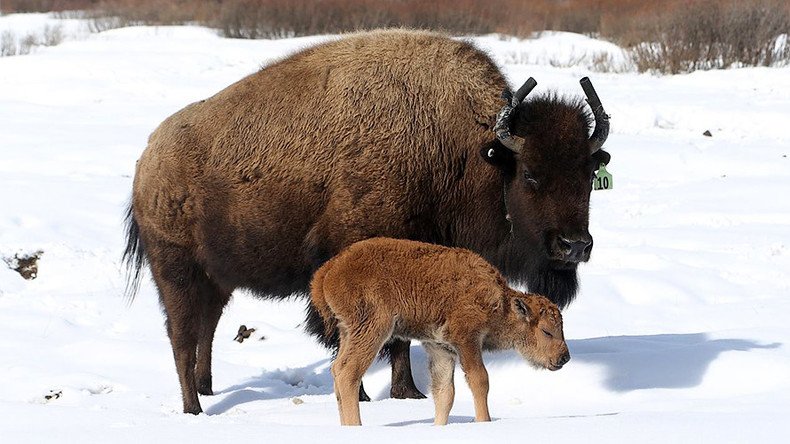 Canada's Banff National Park has welcomed its first newborn wild bison in 140 years – a huge milestone in the country's bid to reintroduce the species.
The first calf was born on Earth Day, April 22. Since then, two more have been added to the herd with an additional seven baby bison expected shortly.
READ MORE: #MarchForScience: Thousands protest in over 600 cities around the world (VIDEO)
"It's a really key step, and the fact that these young calves look so healthy and so well adjusted in this habitat is really encouraging," said Bill Hunt, a resource conservation manager with Parks Canada to CBC News.
Hunt also remarked on how well the calves were adapting to heavy snowfall in the area.
A herd of 16 wild bison, including 10 pregnant females, were relocated from Elk Island National Park to Banff National Park last February.
The move was part of a CAD$6.5 million project to reintroduce the bison to its historic range in Banff's eastern slopes, west of Calgary.
Their arrival at an enclosed pasture in the Panther Valley area of the park marked the first time the species have roamed there since being hunted to near extinction in the 19th century. At one time there were as many as 30 million bison on the plains.
The arrival of the calves marks a significant step in the reintroduction programme, said Hunt.
"We know … that where a young female drops her calf, it really ties her to that space – even if she was born somewhere else."
The bison are being monitored using radio collars and plans are in place to release the herd into a 1,200-square-kilometre area on the eastern slopes of the park during the summer of 2018.
READ MORE: Ice Age bison-cattle hybrid did exist, DNA evidence shows
This will give them the opportunity to interact with other native species, forage for food and integrate into the ecosystem. Parks Canada is also monitoring how the herd affects water quality and wildlife.
If the five-year pilot project is successful, the new herd, which is expected to grow to about 80 by its end, could eventually roam free in the park.
You can share this story on social media: