Defiant woman blocks armored truck during anti-Maduro clashes in Venezuela (PHOTOS, VIDEO)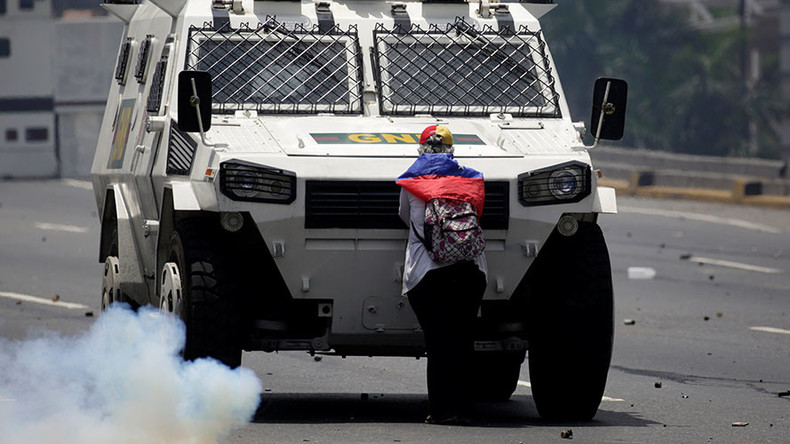 Defiant Venezuelan protesters have been pictured standing in front of – and on top of – armored trucks during anti-government demonstrations dubbed the 'mother of all protests'.
Three people were killed during rallies against President Nicolas Maduro in the capital Caracas Wednesday, as violent clashes broke out between protesters and riot police as well as with pro-government counter demonstrators.
READ MORE: Violent scenes erupt on streets as Venezuelans stage massive anti-Maduro march (VIDEOS, PHOTOS)
Thousands took to the streets to demonstrate for and against Maduro's government amid an escalating economic crisis.
Powerful footage of a woman, draped in a Venezuelan flag and standing alone against a National Guard (GNB) armored truck, has gone viral. The confrontation, which has been viewed almost 500,000 times since being uploaded, shows the woman standing her ground as tear gas is fired at her.
The incident reportedly occurred on the Francisco Fajardo motorway in the Venezuelan capital.
A later image of the woman reportedly shows her being taken away by police officers on a motorcycle, according to BBC Mundo.
It's not clear if the woman was arrested but Venezuelan TV host Karen Ferreira posted a message on Instagram saying the woman, who was a neighbor of Ferreira's grandmother, was safe at home with her family.'
READ MORE: General Motors accuses Venezuela of illegally seizing its car plant
Prominent opposition leader Henrique Capriles Radonski praised the woman's courage, saying: "This is our Venezuelan woman, brave, God bless her, lady today and always."
Venezuelan authorities banned Capriles from public office for 15 years earlier this month, effectively stopping him from running against Maduro in next year's election. Capriles also shared footage of a naked protester standing on top of a GNB tank with a bible in his hand and a Tommy Hilfiger bag strapped across him.
The incident also reportedly happened on the Francisco Fajardo freeway of Caracas, according to LaPatilla.
"Do not throw more bombs, please do not throw more bombs," the protester reportedly said while on top of the vehicle.
You can share this story on social media: