Violent scenes erupt on streets as Venezuelans stage massive anti-Maduro march (VIDEOS, PHOTOS)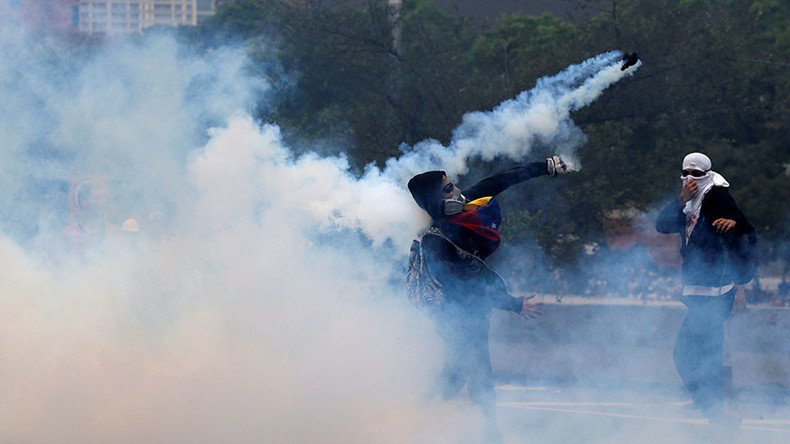 Violent scenes have erupted during demonstrations against Venezuelan President Nicolas Maduro. Photos and videos shared on social media appear to show show protesters and police clashing on the streets in Caracas, the country's capital.
Huge crowds gathered in cities across the country following weeks of violent demonstrations that have left a total of eight people dead and inflamed tensions between anti-government activists and security forces.
READ MORE: 3 killed as Venezuelans hit streets in massive anti-Maduro protest (PHOTOS, VIDEOS)
Riot police fired tear gas at protesters on the western side of Caracas, according to AFP.
In the midst of the violent street protests, opposition politician Henrique Capriles has called on the people of Venezuela "to defend the constitution."
In a message to supporters Tuesday, Capriles said President Maduro was intent on "dividing and sinking Venezuela." He urged people from all sides of Venezuelan society to "unite" against his rival's regime.
Calls for Maduro to step down come after three people were killed during similar demonstrations Wednesday. The protest, which was said to have attracted hundreds of thousands of people, was dubbed the "mother of all marches" by the opposition.
In response to the unrest, Venezuelan Foreign Affairs Minister Delcy Rodriguez has posted scores of photos to Twitter of people reportedly supporting the country's president.
On Thursday, US automaker General Motors (GM) vowed to "take all legal action" after accusing Venezuelan authorities of seizing its plant in the industrial hub of Valencia.
READ MORE: General Motors accuses Venezuela of illegally seizing its car plant
You can share this story on social media: