'It's the reflex of governments to conceal & mislead': Snowden talks surveillance & privacy (VIDEO)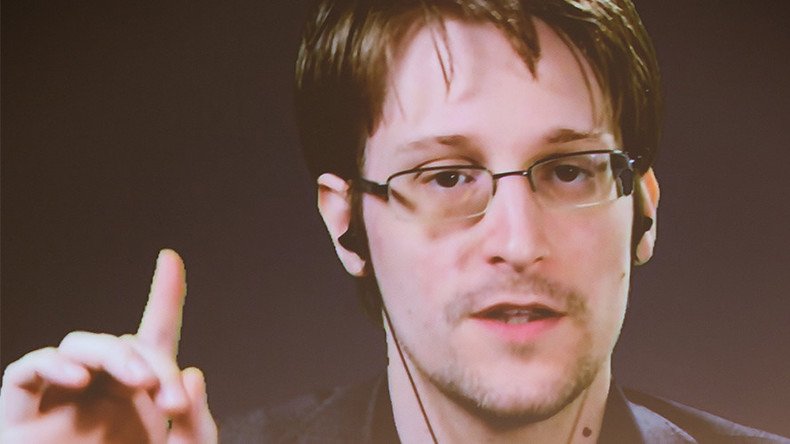 NSA whistleblower Edward Snowden has detailed how governments are using fear to undermine civil rights. He said this has lead to an increase in surveillance laws in a number of countries.
The former CIA employee spoke via video link at William & Mary Law School in Williamsburg, Virginia, in a discussion moderated by retired US Army Colonel Larry Wilkerson, who was chief of staff to US Secretary of State Colin Powell. Both men are recipients of the Sam Adams Award, which is given to an intelligence professional who has taken a stand for integrity and ethics.
Snowden began his remarks by reminding his audience that the US is "a nation born out an act of criminality, an act of treason," and painted a picture of immense depth and power of modern surveillance techniques.
"Surveillance technology has outpaced democratic controls. A generation ago surveillance was extremely expensive… but today that has reversed," Snowden said. "For the first time in history it's possible for governments to track the complete activities of our lives."
The former NSA contractor claimed that he doesn't have any grievances against America's security agencies, saying he volunteered to work for them, and volunteered to work overseas.
Speaking about the culture in the intelligence community, Snowden said: "There is no evil grand conspiracy amongst your average NSA employee but good people can do very bad things for what they believe are good reasons."
A light-hearted moment came when the livestream dramatically froze as Snowden posed the question "Does government lie?" This sparked a hubbub from the audience. "I know what everyone's thinking," Wilkerson joked as the crowd waited for the technical difficulties to be resolved.
Snowden spoke about the vital importance of adversarial journalism. "If we only knew what governments wanted us to know we would not know much at all," he said. "Think about what we wouldn't know without adversarial journalism." He cited police forces using body cameras and revelations about drone strikes as examples of important information gleaned from journalism.
READ MORE: 'Stop breaking the law': Snowden raises 'red flag' over testimony of NSA and FBI chiefs
Snowden used the example of Martin Luther King being marked as the "greatest national security threat" two days after he gave the "I have a dream" speech as evidence of the mindset of governments and national security.
"We must always be skeptical. It is the reflex of governments to conceal and mislead their subjects because they think it is the right thing to do… National security is a euphemism meaning continuation of the status quo."
While discussing surveillance laws being passed in the UK, Russia and China, Snowden said the current political atmosphere of heightened nationalism and fear is being used to undermine rights.
"We are constructing a world where the most common political value is fear… this has given rise to a creeping authoritarianism," Snowden said. "If you live in a world of terrorists and madmen… rights begin to look like a vulnerability."
"If we allow the preferences of a few officials to replace the basic principles on which our constitution was founded then we have completed the journey from citizens to subjects."
In closing his initial statement Snowden laid down the gauntlet to his audience by advising that "sometimes the only moral choice is to break the law… One voice is enough to change the world and i think it may be yours."
You can share this story on social media: