'Who is giving you your manners?' Lavrov schools NBC reporter for Tillerson event interruption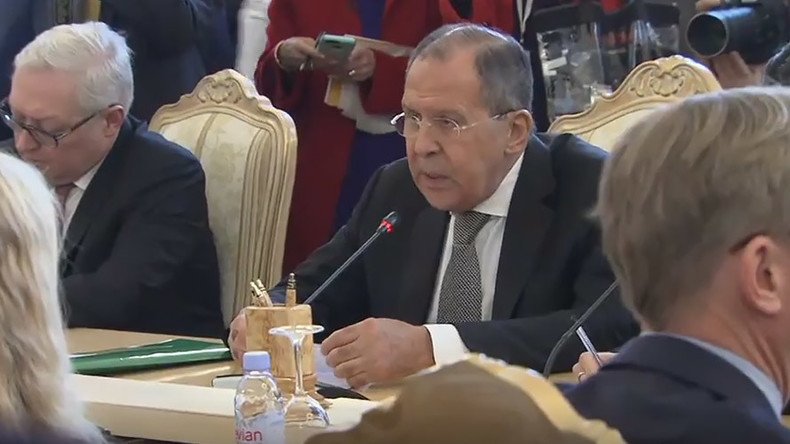 Russian Foreign Minister Sergei Lavrov rebuked a US reporter over her "manners" after she called a question to him just before the start of his joint briefing with US Secretary of State Rex Tillerson in Moscow.
READ MORE: Lavrov: Avoiding Idlib 'attack' probe would mean intl community not looking for truth
The diplomats were taking their seats at the event on Wednesday to issue opening remarks as the question was asked from across the room by NBC News chief foreign affairs correspondent, Andrea Mitchell.
The Foreign Minister cut Mitchell off abruptly, interjecting: "Who was bringing you up? Who was giving you your manners?"
Later Lavrov tells the reporter, "you can shout now", laughing at his remark along with Tillerson.
A press release from the US Department of State noted the exchange between Lavrov and the journalist.
In a tweet apparently referencing the incident, Mitchell cited former US ambassador to Russia Michael McFaul as saying it was indicative of "Putin hospitality":
.@mcfaul says with respect to Putin hospitality this is normal... the way he rolls, he makes people wait, creates drama @MSNBC#AMR

— Andrea Mitchell (@mitchellreports) April 12, 2017
Social media users replied by criticising Mitchell for making"the news about yourself" and being "uncouth and inappropriate".
The meeting, part of Tillerson's first official visit to Moscow, discussed US-Russia relations in the wake of last week's US airstrike on a Syrian airbase.
READ MORE: White House claims on Syria chemical attack 'obviously false' – MIT professor
Tillerson also met with Russian President Vladimir Putin at the Kremlin but details of that discussion have not been released.
You can share this story on social media: