'Gibraltar is ours': English football fans clash with riot police in Madrid (VIDEOS)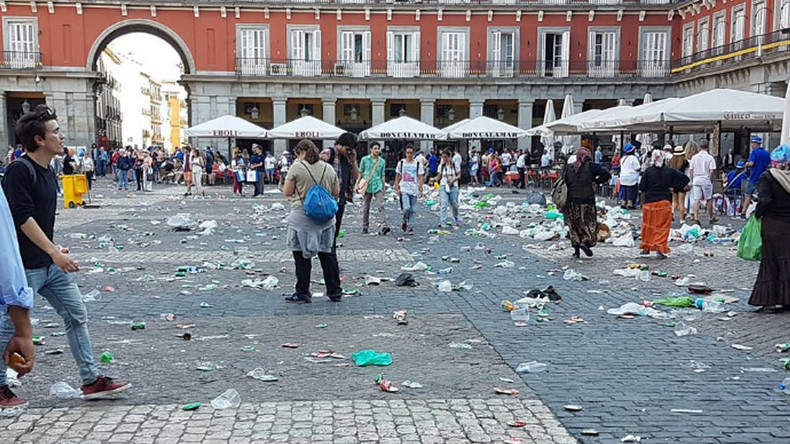 Fans of Leicester City football club chanted "F*** off you Spaniards, Gibraltar is ours" during clashes with police in the Spanish capital ahead of a Champions League tie against Atlético Madrid.
According to The Independent about 3,000 Leicester fans made the trip to Madrid to support their side in the quarter final tie and they made their presence felt, with large scale clashes with police on Tuesday night. Further disturbances came before the match on Wednesday.
Huge groups of Foxes fans gathered in Madrid's popular Plaza Mayor where they chanted about the UK's claim on Gibraltar. Video shot during the unrest showed fans hurling cans and other projectiles at riot police.
READ MORE: Senegal v Ivory Coast match abandoned in Paris after pitch invasion, player 'rugby tackled' (VIDEO)
The square was also the scene of disturbances on Tuesday night as eight Leicester fans were detained for public disorder offences.
"There was a group of 70 hooligans when the police charged [on Tuesday night]," a spokesperson for the municipal emergency services told AFP.
"On the ground we attended five people, three police officers and two English ultras for cuts and bruises, but nobody was taken to hospital," the spokesperson added.
BBC reporter Phil Mackie alleged that police officers were involved in unprovoked attacks on civilians and shared footage from Tuesday and Wednesday's incidents. The BBC report that the club has lodged an official complaint about the nature of the policing.
Gibraltar was ceded to Britain in 1713 under the Treaty of Utrecht however Spain has long made efforts reclaim the territory. The status of 'The Rock' has come into renewed focus after the EU Brexit negotiating guidelines said a deal applying to it could be vetoed by Spain.
READ MORE: Could joint UK-Spanish sovereignty deal solve Gibraltar impasse?
Chief Minister of Gibraltar Fabian Picardo condemned the fans singing about Gibraltar. "This behavior is not helpful to #Gibraltar and our just cause," he said. "I condemn it on behalf of all the peaceful people of Gibraltar."