Video of cop brutally throwing woman to ground 'lacks full context' – Colorado police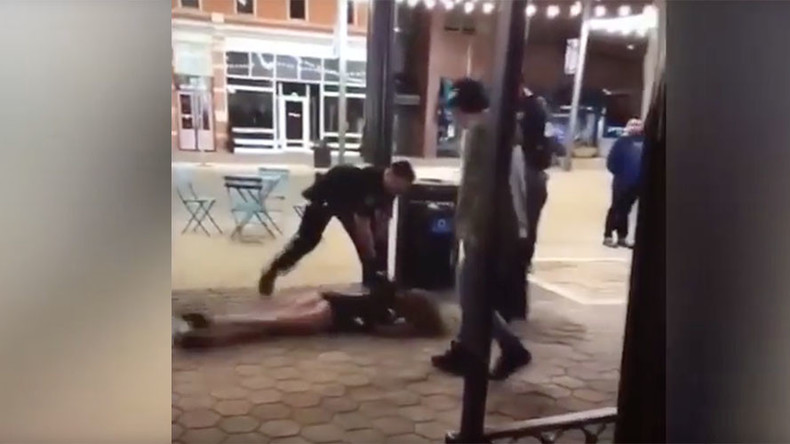 Footage of a police officer in Colorado forcefully slamming a woman face first onto the ground has gone viral with social media users venting their outrage about what they deem to be "excessive" use of force.
The woman, who has been named as 22-year-old Michaella Surat, reportedly struck the officer in the town of Fort Collins, Colorado, after her boyfriend was detained by police on Thursday night.
A police spokesperson said that the cop used "standard arrest control" to restrain Surat. The nine-second video taken by a bystander was widely shared on social media. The incident was also captured on the cop's body cameras.
The video was shared by the popular Barstool Sports website, prompting a torrent of responses with many noting that the cop handled the woman very forcefully.
In a statement on Sunday evening, Fort Collins police Chief John Hutto promised "a fair and impartial" investigation and said that footage from the officer's bodycam would be released when the investigation concludes.
READ MORE: Police forcibly remove passenger at behest of United Airlines in disturbing footage
"This event will be thoroughly investigated. The court process will take place and there will be an internal review of the officer's actions from the perspective of policy and procedure. At the conclusion of these investigative processes, the body worn camera video will be made available to the public," Hutto said.
He added: "As with most events of this type, the short, publicly-available video does not have the context or content of the full event."
The Coloradoan reports that officers attended the scene due to reports of a "separated disturbance" between two men outside a bar.
Surat, whose boyfriend was reportedly one of the men involved in the fight, allegedly "shoulder-checked the bouncer and an officer and then pulled her boyfriend from the area," according to Kate Kimble, Fort Collins police spokeswoman.
"The officers told her that her boyfriend was not free to leave but that she could go," Kimble said. "She remained at the scene, at which time she physically obstructed and struck an officer."
Surat was released on bond after being arrested on suspicion of third-degree assault and obstructing a peace officer.