'Bottomless' pool, suspended 500ft in air, may induce strokes (VIDEO)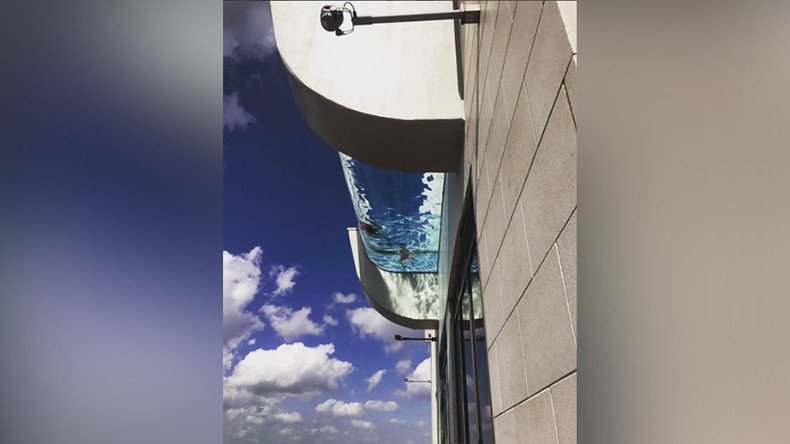 A luxury apartment building in Texas has a 40-story high, glass-bottomed, 'sky pool' that will make your knees weak.
The Market Square Tower in Houston, Texas, is a new residential building that promises to "celebrate, honor and nourish" your lifestyle with a range of extravagant amenities.
Along with your usual gym, spa and games room, tenants of the five-star tower can utilize a virtual golf and billiards room, poker suite, basketball court, movie theater, cyber lounge, sunless tanning suite, temperature-controlled wine room and, of course, a see-through "sky pool" that extends 10-feet (3 meters) beyond the building's edge, giving you a bird's-eye view of the city 500 feet below.
READ MORE: America's donut excess - from the $1000 golden circle to a stoners' dream
Video footage of someone strolling along the 8-inch-thick Plexiglass that separates him and a long fall to certain death has garnered 2 million views on Facebook.
Living in the tower of excess costs $1,805 per month for a 564-sq ft studio apartment, and $18,715 per month for a 2,993-sq ft penthouse, reports the Houston Chronicle.
WATCH MORE:
You can share this story on social media: