Serpent sins: Man fined $200 for not keeping snakes on a leash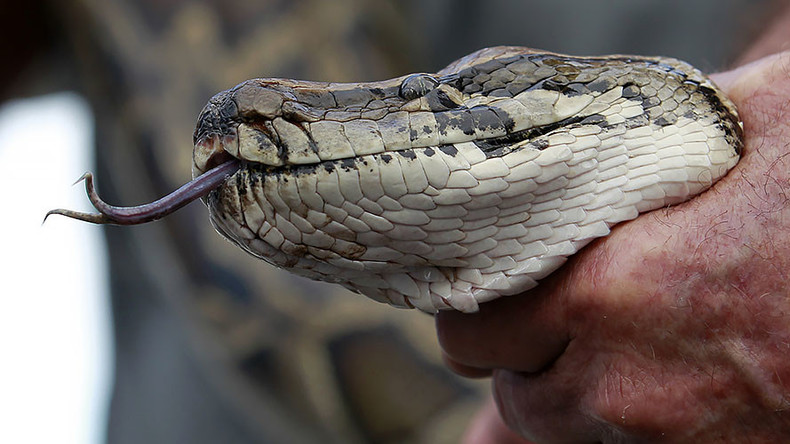 Jerry Kimball of Sioux Falls was slapped with two $95 fines for not keeping his pets on a leash in public. The only issue is, no one has developed a leash that fits snakes yet as far as anyone can tell.
"People have a fear of snakes, but I want to change that, that's my mission," he said, speaking with KDLT News.
Kimball is the proud owner of a total of nine snakes, and decided to show several of them off at Sioux Falls park last weekend.
Unfortunately, he fell afoul of a Sioux Falls animal control officer who didn't share Kimball's passion for exotic creatures roaming free in public spaces.
READ MORE: Snake in the grass: Escaped Florida cobra creates online hiss-teria
"He was like technically you have to have your snakes on a leash. And I was like, 'Sir they don't make such an item," Kimball said in an interview with KDLT.

"I'm not the most educated man on the world but I have 20 years experience and I'm smart enough to know you can't physically put a snake on a leash," he added.
Kimball was cited for allowing two of his pythons to roam the park "at large," which is considered a risk to public health.
When asked about the specific violation, City of Sioux Falls Animal Control Supervisor Julie DeJong told KDLT that snakes cannot roam free but must be either held or placed in a container. She did, however, highlight that it was not a case of serpentine discrimination.
"You as a pet owner can't take your dog to the park and let it run around without a leash on," she said, as cited by KDLT. "The same thing holds for any other animal that you want to take to the park, you have to have it restrained in some way," she added.
READ MORE: Snake bites off more than it can chew, vomits entire antelope (GRAPHIC VIDEO)
A local herpetological enthusiast involved in a larger group dedicated to promoting serpent conservation and educating the public about snakes couldn't resist poking a little fun at the situation on their Facebook page.

While leashes would be an inappropriate solution, for obvious reasons, perhaps a more traditional method of keep the slippery characters under control is in order.