Snake in the grass: Escaped Florida cobra creates online hiss-teria
Published time: 15 Mar, 2017 21:12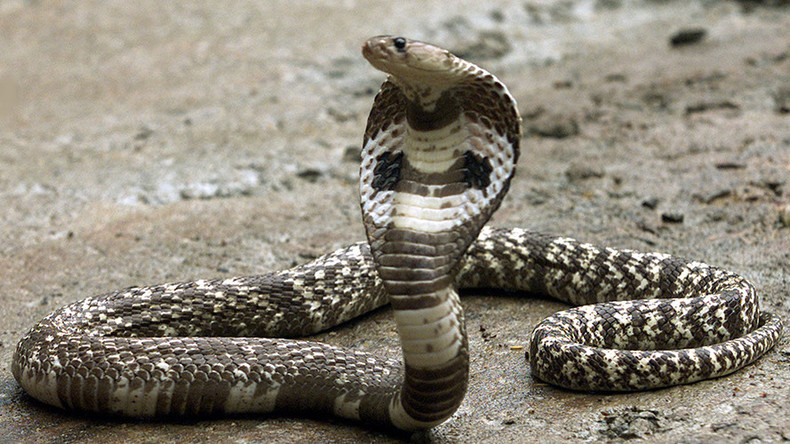 The hunt is on for a two-foot long, highly venomous and deadly cobra that escaped from its enclosure in Ocala, Florida on Monday, slithering into the minds of a twitterati bewildered by the reptile's strange disappearance.
The runaway serpent appears to be enjoying the new found fame, however. It seems the reptile has managed to create his own Twitter account, gaining over 1,100 followers since the account was activated shortly after it escaped on March 14.
The reptile's owner called the Florida Fish and Wildlife Conservation (FWC) late Monday to inform them of the snake's great escape. When a joint search by the FWC, Ocala Police and Marion County Fire Rescue turned up nothing, authorities alerted nearby residents.
In a statement released by the FWC, members of the public were urged not to try and apprehend the dangerous, cold-blooded creature.
"Residents in the area are urged to use caution until this snake has been captured. Although reclusive by nature, cobras are highly venomous and will strike out if they feel threatened," it read.
As the search continues, FWC officials are hoping that the cold weather has kept the yellow and tan serpent in the house.
"It's keeping the snake in a more confined area because in this cold weather they're not going to get out and move," local media Ocala.com reports FWC Officer Wayne Hargabus as saying.
Bizarrely, the cobra's owner, Brian Purdy, has suggested that the snake may have been eaten by a large lizard he also owns. However, following an X-ray of the lizard by a vet, no snake was found.