'Built by Ivan the Terrible's mother': 500yo secret 'spy room' found below Moscow street (VIDEO)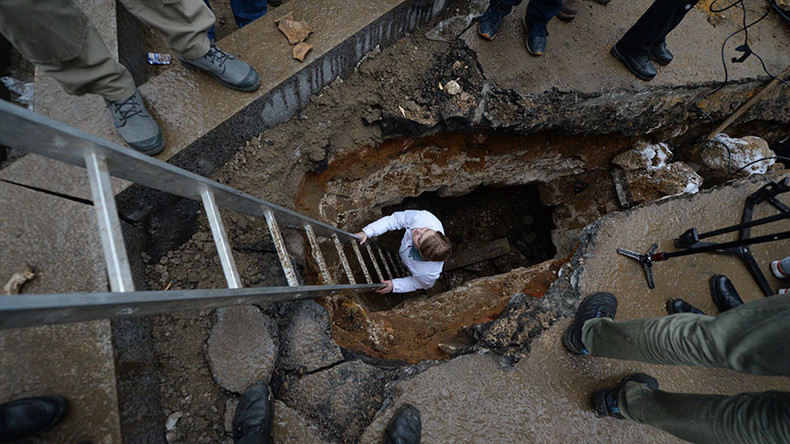 Archaeologists have unearthed a secret spy chamber beneath a Moscow street – a room built back in the 16th century to eavesdrop on the enemy through a wall.
It was built "by Elena Glinskaya, the mother of Ivan the Terrible, who led Russia in the 1530s," Leonid Kondrashev, Moscow's chief archaeologist, told RT's Ruptly video news agency.
The wall, underneath which the room was located, was initially built to protect from Tatar and Polish raids. It was initially over 2.5 kilometers-long and had 12 towers, but only small fragments remain today.
Archaeologists say that the secret spy room was used for the last time in the 17th century in the war against the Poles, who at some point occupied Kitay-gorod, one of the most ancient areas in Moscow.

"The [Kitay-gorod] Wall differs a lot from the Kremlin Wall as a fortification, because it was used to defend against firearms," Kondrashev added.
The room's vaulted walls created a special acoustic effect which helped to hear very clearly what was going on outside.
The "hearing" secret room was also used to store food supplies in times of peace.
In all, archaeologists found around 150 ancient artefacts dating back to the 16th-19th century.
"The majority of the artefacts are 18-19th century ceramics: fragments of pots, bowls, there is even a very well preserved ceramic cup. A dozen copper coins, lead trade sealing marks, iron knives, nails were also found," an archaeological bureau employee said, as cited by Interfax.
Experts are now considering whether the room should be opened to the public or preserved as it is.
The amazing discovery happened due to construction work going on in the Russian capital's center.