SpaceX Falcon-9 successfully launches & lands, could mark 'low-cost' era of space travel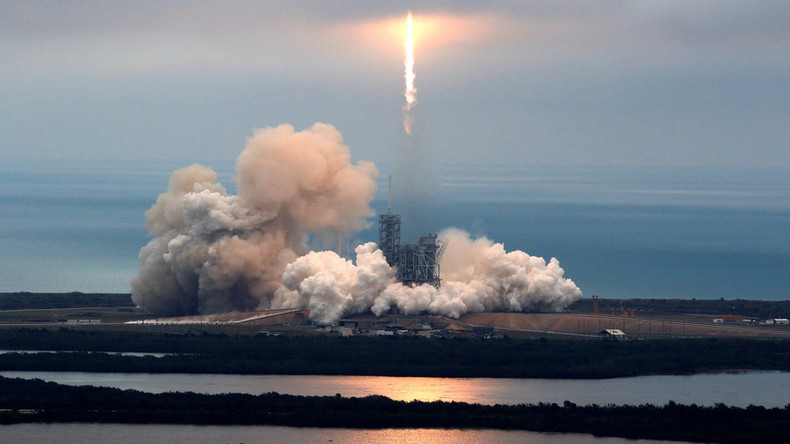 SpaceX's Falcon-9 rocket has launched. This is a high-risk, high-reward $62 million venture for the company, which could prove to be a defining moment for the future of commercial space flight and the private space industry as a whole.
On Thursday at 6:27pm EST, SpaceX re-launched and landed the rocket from the CRS 8 mission, which blasted off in April of last year to carry roughly 7,000 pounds (3175kg) of cargo to the ISS before successfully landing on a floating drone ship.
"This is gonna be ultimately a huge revolution in spaceflight," SpaceX CEO Elon Musk said upon the successful landing.
The crowd attending the launch turned from cheering to outright raucous at about the 3-minute mark of the launch, when the Falcon-9 neared an altitude of 100 kilometers, or over 62 miles.
After about seven minutes, the first stage of the rocket was on its way back to the drone ship. The landing was intensely anticipated. The live video feed was lost on the drone ship, due to the vibrations of the second stage, but the landing was reported successful.
A Luxembourg-based telecommunications company called SES, a longtime SpaceX customer, is launching its SES-10 satellite into a high-altitude orbit approximately 22,200 miles (35,700 kilometers) above Earth with the aim of providing internet and television coverage to countries across Latin America.
SpaceX is hoping to successfully launch the SES-10 satellite into orbit and then recover the first-stage booster rocket. The lower half of the launch vehicle is typically the most expensive component of the craft, costing tens of millions of dollars to produce.
"Wherever we can change the industry equation, we will do it. We were waving our hands to be the first," SES' global communications director, Marcus Payer, told Business Insider. "We are not risk-averse; otherwise we would not be launching satellites."
Reusable rockets could eventually provide up to a 30 percent saving to customers, SpaceX's COO and president, Gwynne Shotwell, told the Verge. New Falcon 9 missions currently cost customers roughly $60 million, but by taking advantage of 'used' goods potential future missions could cost just $40 million.
"We believe reusable rockets will open up a new era of spaceflight, and make access to space more efficient in terms of cost and manifest management," SES' CTO, Martin Halliwell, said in a previous statement, as cited by The Verge.
While Jeff Bezos' Blue Origin has reused rockets in the past, these had only been used in suborbital test flights and had not carried any payloads.
John Logsdon, a space policy expert and historian at George Washington University's Space Policy Institute, told Business Insider that "reusability has been the Holy Grail in access to space for a long, long time," adding that "each recovered booster will present a different challenge."
While there have certainly been several explosive failures in SpaceX's past, of the 13 launches so far, a total of eight rockets have successfully landed back on Earth.
A static test fire of the engines on Monday was successful and there is roughly a 70 percent chance of favorable weather, reports the Verge, citing US Air Force sources.
The launch window opens at 6:27pm EDT (23:27 GMT) and will last roughly two hours and 30 minutes.