'#2 Will Amaze You': BuzzFeed listicle-trolled in libel lawsuit motion featuring kitten picture
Published time: 30 Mar, 2017 03:15
Edited time: 30 Mar, 2017 23:05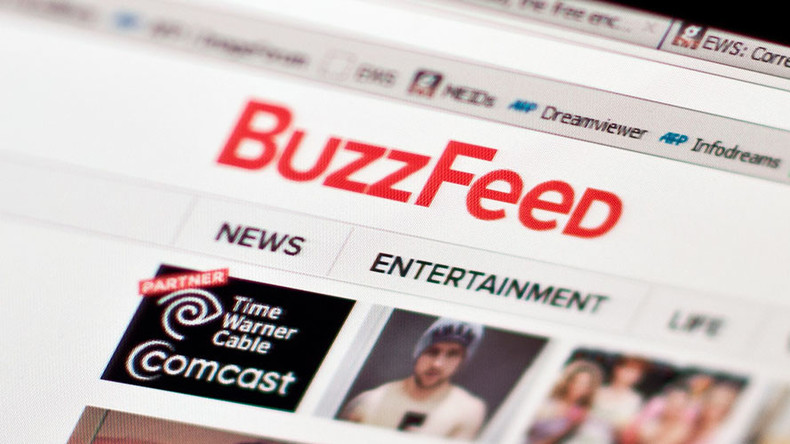 BuzzFeed, which is engaged in a legal battle with a Russian businessman over a false dossier on Trump's ties with Moscow, has been trolled in a Florida Court. The plaintiff's legal team filed a motion exposing the alleged 'six ways BuzzFeed has mislead the court.'
Earlier this year, Russian tech expert Aleksey Gubarev filed two lawsuits, one in Florida and one in London, over false accusations contained in an unverified BuzzFeed story that claimed to expose links between President Trump and the Russian government.
Since the defamation lawsuit was filed against the publication and its editor earlier this year, BuzzFeed apologized to Gubarev and went on to remove the businessman's name from the dossier. Now the media company is trying to get the case dismissed citing jurisdiction issues.
In response, the plaintiff's legal team tried to catch the court's attention by filing an opposition motion titled "Six Ways BuzzFeed Has Misled the Court (Number Two Will Amaze You) ... And a Picture of a Kitten."
The 22-page filing addresses how BuzzFeed allegedly misrepresented facts in their argument to get the lawsuit dismissed. The popular news website argued that Gubarev's legal team shouldn't be able to sue them in Florida and that the suit should be either dismissed or moved to New York.
"In a somewhat remarkable Motion to Dismiss, Plaintiffs Buzzfeed, Inc. ("Buzzfeed") and Ben Smith ("Mr. Smith") intimate that their ties to Florida are so sparse that, collectively, they can barely find Florida on a map and that, as a result, the present case should be dismissed for lack of jurisdiction or transferred to the Southern District of New York," the plaintiffs said in the opening of the rebuttal filed with the Florida court on Monday.
The rest of the document which mocks the website's reputation for listicles and clickbait headlines is just as satirical, including a picture of a cat belonging to plaintiff's lawyer Evan Fray-Witzer which is featured as Exhibit 41.
Lawyers working against Buzzfeed in a lawsuit decided to have some fun with the title of their filings, and attached a kitten as Exhibit 41. pic.twitter.com/q4EpN2rOKL

— yung🌹nugget (@veryann0yed) March 29, 2017
In trying to prove BuzzFeed's connection to Florida, the legal team stressed that "it could be argued that BuzzFeed is as much 'at home' in Florida as are sunny beaches and Florida orange juice."
"The article was circulated in Florida; defendants have pervasive contacts with Florida; there is every reason for defendants to have expected that their actions would subject them to jurisdiction in Florida," Gubarev's legal team said.
In reply to the satirical filing, BuzzFeed said that it still remains confident that the case against them will be dismissed.
"We're surprised by the plaintiffs' desire to make light of this matter," BuzzFeed said in a statement to Business Insider, "and we are confident in our motion to dismiss Mr. Gubarev's suit."
On January 10, 2017, BuzzFeed and its editor in Chief Ben Smith published a "dossier" of unverified information compiled by a private security company in which various allegations were made concerning, among other things, computer hacking allegedly carried out by persons or organizations with ties to Russia, the Russian Government and the Federal Security Service (FSB).
The 35-page dossier, accused XBT Holdings, owned by Russian tech wiz Gubarev, of "using botnets and porn traffic to transmit viruses, plant bugs, steal data and conduct 'altering operations' against the Democratic Party leadership."
Gubarev's legal team says the story, which immediately gathered nearly 6 million reads, was published without any journalistic ethics and due investigative process. Indeed, in its the original publication of the dossier, BuzzFeed itself admitted it had no idea of what in the dossier was truthful, writing: "The dossier, which is a collection of memos written over a period of months, includes specific, unverified, and potentially unverifiable allegations…"
As a result of BuzzFeed and Smith's "reckless" publication of "defamatory materials," the lawsuit in the Florida court said Gubarev found his personal and professional reputation in tatters. Furthermore, the Russian businessman's wife has found herself a target of online harassment while the family's personal security has been compromised.