Lebanese President faceplants at start of Arab summit (VIDEO)
Published time: 29 Mar, 2017 21:59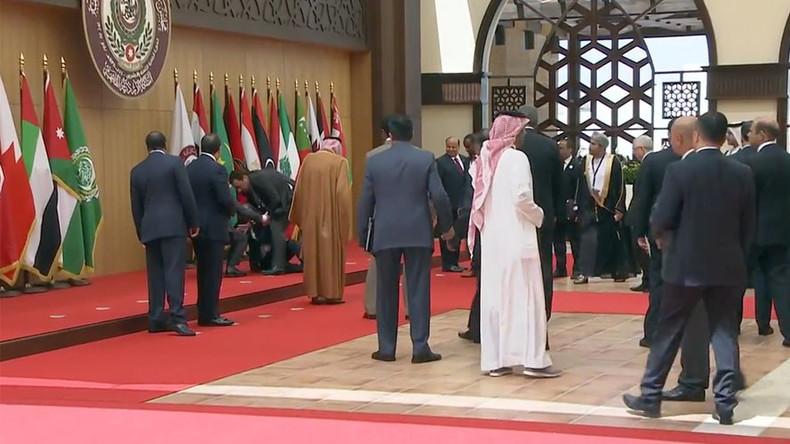 Lebanese President Michel Aoun fell flat on his face as the Arab league summit at the Dead Sea in Jordan got underway on Wednesday.
The 82-year-old leader tripped as he approached a low red carpet podium ahead of the first meeting with leaders from 21 Arab states.
Aoun took a dramatic tumble landing face down in front of a number of standing flags before a number of officials rushed to his assistance.
Lebanese media reported later that the president was uninjured in the incident and went on to address the summit.
Earlier, Dubai's ruler, Sheikh Mohammed bin Rashid, fell as he disembarked his plane on route to the event.
Apparently Mohammad bin Rashid fell down while getting off the plane, and Michel Aoun fell face-first while taking a group photo

— İyad el-Baghdadi (@iyad_elbaghdadi) March 29, 2017
The conflict in Syria and the fight against Islamic State (IS, formerly ISIS/ISIL) are top of the agenda at the two-day 28th Arab League summit.
Leaders have also addressed the ongoing Israeli-Palestinian conflict, civil wars in Yemen and Libya and the regional refugee crisis in their speeches, according to The National.