Jesus Christ's 'tomb' opens to public after restoration
Published time: 21 Mar, 2017 15:22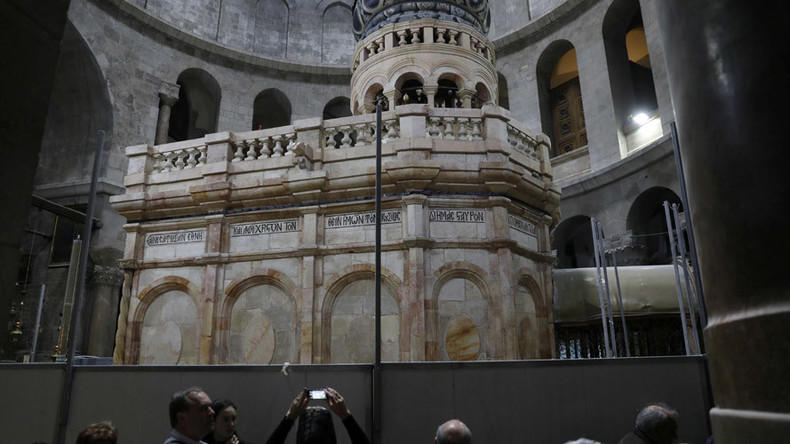 A burial tomb believed to have held the body of Jesus Christ before his resurrection will open to the public on Wednesday. The tomb at the Church of the Holy Sepulchre in Jerusalem underwent nine months of restoration.
A team from the National Technical University of Athens (NTU) carried out intensive restoration on a small structure known as the 'Edicule' (little house) within the church, containing the tomb and burial bed believed to have once held the body of Jesus Christ.
During the restoration the team removed a slab of marble that had been placed over the bed in 1555AD to prevent pilgrims removing rocks from the holy site, exposing the original limestone shelf for the first time in centuries.
The team from NTU reinforced the 'Edicule' structure during the restoration, using titanium bolts and mortar.
"If the intervention hadn't happened now, there is a very great risk that there could have been a collapse," said Bonnie Burnham from the World Monuments Fund, which oversaw the project, The Guardian reported, citing AP.
Thick layers of candle soot and pigeon droppings were also removed from the holy site.
READ MORE: Jesus Christ's 'burial slab' uncovered during restoration
A small window has been cut in the marble wall of the 'Edicule', allowing pilgrims to see into the tomb for the first time. On Wednesday, Ecumenical Patriarch Bartholomew I, the spiritual leader of the world's Orthodox Christians and a representative of Pope Francis, will mark the completion of the restoration with a ceremony.
According to scripture, the body of Christ was laid in the tomb following his crucifixion. After three days he was discovered to be missing and said to have appeared over a period of 40 days before ascending into heaven.