SpaceX & NASA scope out landing sites for manned mission to Mars
Published time: 21 Mar, 2017 15:04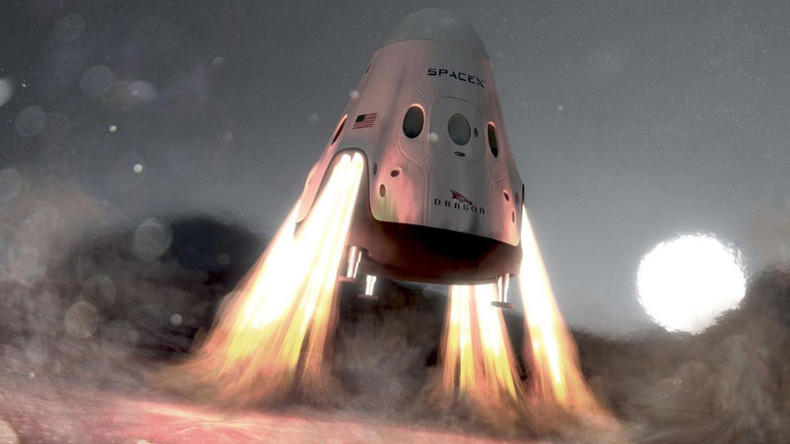 The NASA and SpaceX partnership is set to turn its attention towards identifying potential landing sites for an unmanned mission to Mars. The Dragon spacecraft is set to be blasted back into orbit to aid man's mission to the Red Planet.
"We're really looking to turn this into a steady cadence, where we're sending Dragons to Mars on basically every opportunity," SpaceX engineer Paul Wooster said at a symposium in Texas.
Wooster, who along with overseeing the guidance, navigation and control systems on the Dragon is also involved with the private space company's ambitious manned Mars project, said that the joint project has already identified a number of potential landing zones on the Red Planet.
Along with scientists from NASA's Jet Propulsion Laboratory (JPL), several landing sites, including one particularly promising one have been identified.
Their selection is based on a number of criteria, not least of which is proximity to ice, important because any future human settlements will need to sustain themselves for long periods without resupply missions from the home planet.
Other important factors include, low elevation and positioning near the equator, for better exposure to the sun, although Wooster admits that the former and latter are not entirely compatible.
"It's probably hard to find that along with ice," Space News reports him as saying.
READ MORE: SpaceX launches rocket from NASA's historic pad to deliver cargo to ISS (VIDEOS, PHOTOS)
The focus has been on four locations at latitudes of no more than 40 degrees from the equator. Three of these sites initially looked positive but, upon closer inspection using NASA's HiRISE (High Resolution Imaging Science Experiment), these regions appeared too rocky for a successful deployment on the surface.
A fourth site looks more promising. According to Wooster, Arcadia Planitia, is their best shot at a successful landing.
"What they've found is basically few or no rocks, and a polygonal terrain that they think is pretty similar to what was seen at Phoenix," he said. Phoenix was a NASA spacecraft which landed on the Red Planet's northern polar regions in 2008.
READ MORE: Elon Musk envisions human colonies 'beyond Mars', skyrocketing unemployment on Earth
SpaceX's long term goal is to maintain a manned mission on our nearest neighbor, Elon Musk's company originally planned to launch the first of its supply missions in 2018 but this has now been pushed back to 2020 at the earliest.
The next mission is the slightly less ambitious launch set for March 27, during which it will carry a satellite from Luxembourg's SES for TV broadcast and telecommunication services.