10,000 pieces of 300yo gold & silver treasure found in Chinese river (PHOTOS)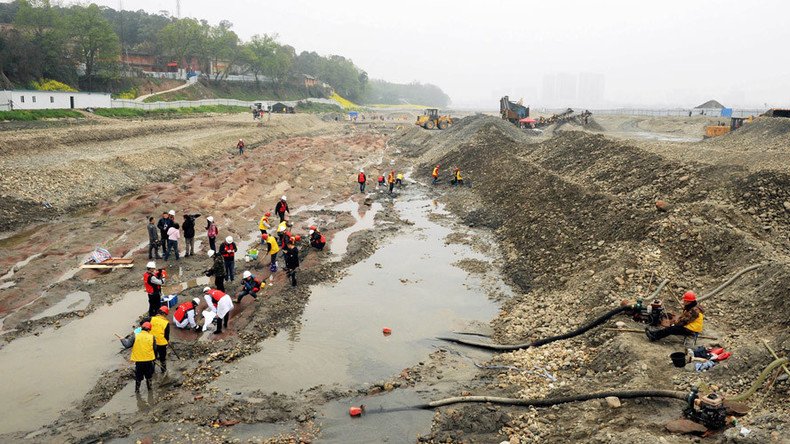 Over 10,000 items from a gold and silver treasure dating back to the Ming Dynasty 300 years ago have been discovered at the bottom of a river in China.
The monumental trove, which had been sitting at the bottom of a river in southwest China's Sichuan Province for over 300 years, was unearthed by archaeologists.
A large number of gold, silver, and bronze coins were among some of the items recovered at the junction of the Minjiang and Jinjiang rivers about 50 kilometers (31 miles) south of Chengdu, the archeologists said on Monday.
See new discoveries in SW China's Sichuan. Over 10,000 gold & silver items that sank to bottom of a river over 300 years ago were recovered pic.twitter.com/Li3fov5CWU

— China Xinhua News (@XHNews) March 20, 2017
READ MORE: Half a ton of 1,700 yro Roman coins found hidden in jars in Seville
Pieces of jewelry, utensils, and iron weapons, including swords, knives and spears, were also found, the director of the Sichuan Provincial Cultural Relics and Archeology Research Institute said.
Many items, having been restored to immaculate condition, still feature impeccably embossed patterns and characters.
The discovery establishes the river as the site of a historic battle fought in 1649 between uprising peasant leader Zhang Xianzhong and Ming Dynasty soldiers, in which about 1,000 boats loaded with money and jewels sunk.
READ MORE: Treasure hunter to raise British warship potentially laden with gold worth £1bn
"The objects uncovered are the most direct and compelling evidence to identify the area where the battle was fought," Chinese archaeologist Wang Wei told Xinhuanet.
The excavation of the river began in January to take advantage of the dry season and low tides. The team manned water pumps day and night to drain the river bed before digging five meters down into the muck to find the precious items.
So far, the archeologists have excavated an area covering 10,000 square meters, and the team expects to unearth even more treasures before the project concludes in April.
You can share this story on social media: