Half a ton of 1,700 yro Roman coins found hidden in jars in Seville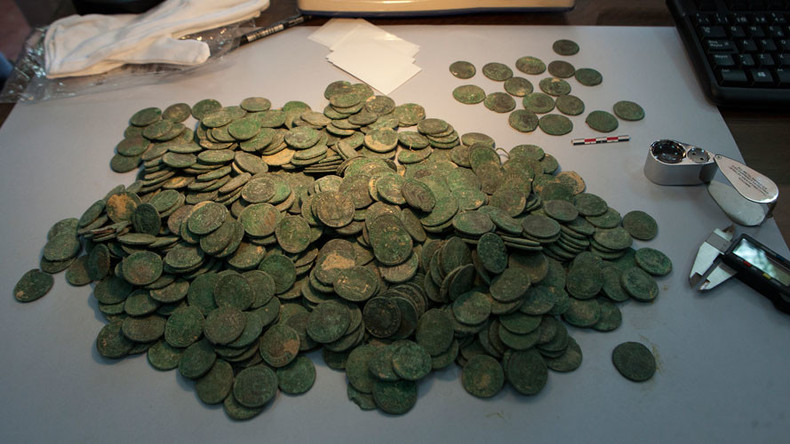 Construction workers repairing water pipes in Seville, southern Spain, have discovered 600kg of ancient Roman coins, covered with dirt and dust. The find is said to be worth at least "several million euros."
Tens of thousands of bronze coins, dating back to the third and fourth centuries, were found inside 19 Roman amphoras in the town of Tomares near Seville, El Pais reported.
"This find is extremely important," Ana Navarro, head of Seville's Archeology Museum now looking after the find, told El Pais. "It is a unique collection, and there are very few similar cases," she added.
The discovery of the jars full of coins happened on Wednesday during construction work about 10 kilometers from Seville.
"Those are not amphoras meant to store wine or oil. They are smaller and were used to transport other goods. Surprisingly [they were] used to save money," Navarro told the newspaper.
AFP quoted Navarro as saying the coins, stamped with inscriptions of Emperors Maximian and Constantine on the reverse side, are worth "several million euros."
"I could not give you an monetary value, because the value they really have is historical and you can't calculate that."
Although most coins are bronze, archaeologists say some appear to be silver-plated. "Most show little evidence of wear, which means they were not in circulation," Navarro explained.
"It is surprising to have found 19 jars filled with coins. Out hypothesis is that the money was used to pay imperial taxes or paying the army," Navarro told the newspaper, adding that the amphoras were probably hidden "because of social conflicts, violence [and other] threats."
Local authorities have suspended work on the water pipes to carry out archaeological excavations at the site.

In July last year, Florida treasure hunters found a trove of $4.5 million worth of Spanish gold coins 300 years to the day after a fleet of ships heading from Havana to Spain sank in a hurricane.
You can share this story on social media: