Watch Russians play curling with cars (VIDEO)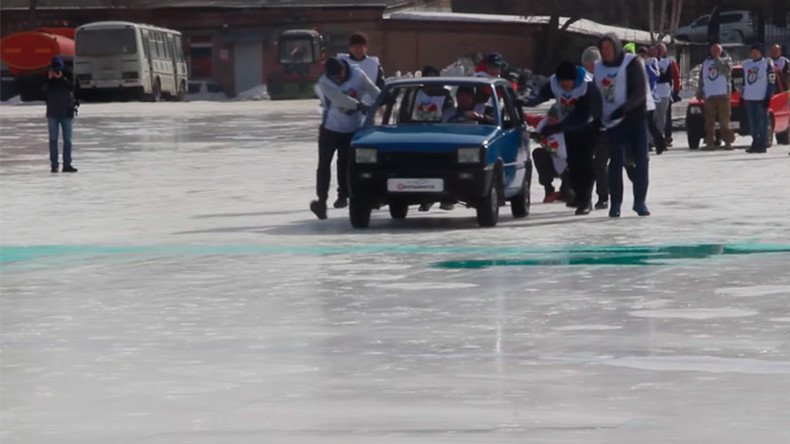 Auto curling has become the world's newest sport, after the Urals city of Ekaterinburg hosted an exhibition tournament in which teams used cars as stones.
A curious, somewhat puzzled crowd gathered outside a skating rink to watch four teams of ten, including a professional curling outfit, push compact Oka cars towards giant curling markings painted on the ice.
While no brooms were used, a driver was allowed to steer the vehicle once it had been let go by the other nine.
As in real curling, the team with the stone — or in this case the rusty vehicle — closest to the center of the target won each game, with additional points for each car of their own color closest to that of their opponent.
Loud bangs could be heard all around, as the fragile Okas, cars that were considered somewhat a joke even by Soviet consumers brought up on Ladas, clattered into each other.
The winners cashed a check of 100,000 rubles — about $1,600.
"It took us a month to prepare for the game," Galina Kirkach, the organizer of the event, told Tass news agency. "We had to buy six cars, which were all in a different state, and then remove the glass for safety, and the motors for lightness, so that they would slide better on the ice."
While many remained bewildered by both the purpose and inspiration for the spectacle unfolding in front of them, there is a logic to the sport of auto curling, well, sort of.
"Curling looks boring on TV, but I played it once with friends and realized what a great sport it was," explained Kirkach, an auto insurance agent.
"Then we decided to combine the idea of curling with cars. We constantly see accidents on the road, and we thought that this would attract people's attention to the need for insurance."
While the relationship between the game and core company business is tangential at best, Kirkach's employers ran with the idea and agreed to sponsor the event. With the auto curling now out there, organizers now hope that it sweeps through the world.
You can share this story on social media: