Siberian man converts car to 'DIY tank' to battle snow (VIDEO)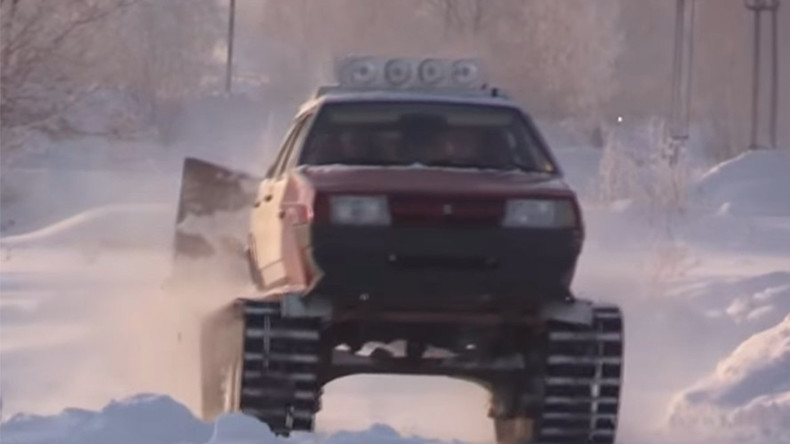 With a fierce snowstorm hammering the US and causing huge disruption for drivers, one Siberian man is showing motorists what they really need for winter roads: a Lada Samara converted into a home-made tank, ready to face any blizzard.
Siberian frosts and snow-covered roads led mechanic Andrey Romanov, a resident of Omsk, to design an off-road tank-like vehicle using a Soviet Lada Samara car model as a chassis.
It took a month and a half for Romanov to modify the 25-year-old car into what he calls a 'Т-21099 tank' that is able to overcome snow banks.
The owner says his 'tank' can accelerate to speeds of 65km per hour and consumes only 16 liters of fuel per 100km.
He says that the vehicle is useful in a countryside landscape where nobody clears the snow.
"It is really interesting. It can be useful, for example, when you come to the countryside, no one will clear the snow here and it is too far to go with a shovel," he told Ruptly. "I bolted the shovel to it and cleaned the snow - now it is clean, as you can see. But the main thing is that it is still a hobby."
Romanov also said that he has a plan help a local disabled man move around outside during winter by putting caterpillars on his wheelchair.
READ MORE:28 inches of snow, floods, emergency in NY: Epic & deadly storm hits East Coast (PHOTOS,VIDEOS)
"One man asked me to set the caterpillars: he is a disabled man. Right now we can say that the project is under construction. There needs to be some funding; currently some calculations have been made and basically the technical side of the issue is being worked out and the way it will look like."
The climate of Siberia varies dramatically. Summers are usually short but winters long and biting cold. The average winter temperature in southern Siberia is about −20 °C (−4 °F).
You can share this story on social media: