Helmet cam captures Russian skier's shocking fall (VIDEO, PHOTOS)
Published time: 19 Mar, 2017 13:33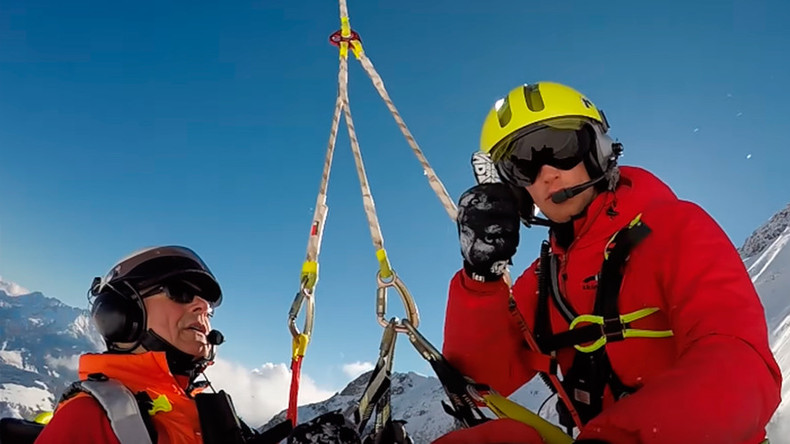 A professional skier's helmet camera captured his horrific, in-competition crash in incredible, stomach-churning detail, from his initial snowy tumble all the way to an airlift rescue.
The skier in question is Ivan Malakov who was competing in a Freeride World Tour event in Fieberbrunn, Austria. The Freeride World Tour is a touring competition held at venues across the northern hemisphere on dangerously steep slopes as skiers and snowboarders compete for title of World Champion.
The video begins with Malakov confidently launching himself down the enormous mountain. He appears to be progressing well until one mistimed turn sees him lose his balance, sending him careening out of control.
The Russian, currently ranked sixth on the tour, can he heard gasping and grunting in pain as he tumbles down the incredibly steep slopes. At one point, a sickening crunch can be heard as his body crashes down the mountain.
When he finally comes to a halt, Malakov sounds remarkably calm as he informs rescuers that he thinks he's okay. He explains that he fell on his back and "it's hurting, but not so much." The film finishes with shots of the rescuer's stony faces as they airlift the injured skier off the slope.
The tour later tweeted that Malakov was okay after the accident.
Jeremie Heitz, Ivan Malhakov, Mark Mikos & Dennis Risvoll fell but they are OK and conscious. Join us live on https://t.co/WbhGznjPhC

— Freeride World Tour (@FreerideWTour) March 8, 2017
The skier posted an image of a spinal x-ray following his crash, telling his fans that "nothing is broken, I feel bad, but I hope for quick recovery!"
The Russian was one of five skiers who fell during the competition in Fieberbrunn, according to La Côte. The "massacre" prompted skier Nicolas Vuignier to tweet that the organizers should stop the competition.