Nude man perched on apartment ledge baffles internet (VIDEO, POLL)
Published time: 17 Mar, 2017 18:29
Edited time: 17 Mar, 2017 18:29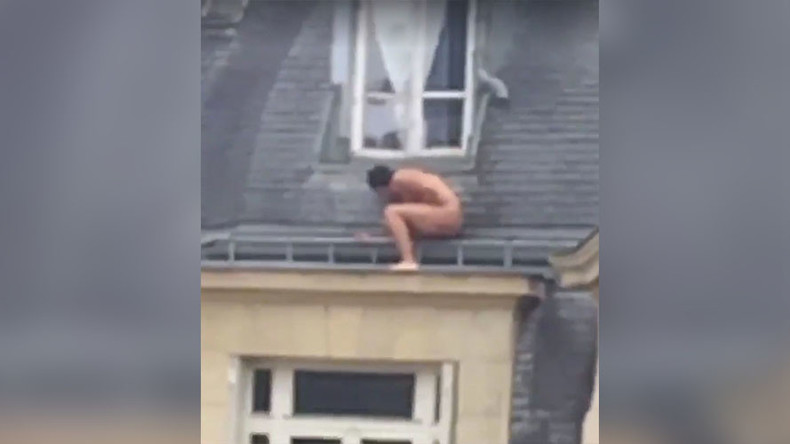 Bizarre footage of a naked man hiding beneath a window pane on top of a high-rise apartment block has emerged online, leading to scores of theories as to how he got there and why.
Images posted to Facebook show the curious scene of a man without any clothes perched perilously on the top ledge of a multistorey building.
READ MORE: Breaking nudes! Going naked makes you feel happier, scientist discovers
The unidentified man appears crouched below an open window, possibly in an effort to conceal himself – or extricate himself from an uncomfortable situation within the apartment block.
The post, captioned in French by Facebook user Naphtal Ngatali, suggests the nude fellow may have been caught in a bedroom with another person's spouse. However, this theory is unconfirmed.
"Who sent you there my brother?" Ngatali writes.
Online theorists have since chimed in to give their view of the unusual situation.
"You risked your life for the wife of someone [else]," one person wrote.
Another online commenter said the incident may have a less salacious but equally unfortunate explanation.
READ MORE: Over 6,000 pose nude for group photo in Colombia (PHOTOS, VIDEO, NSFW)
"I understand not everyone speaks of adultery but we can't prove it. It can be a teenager at his girlfriend's house and the appearance of the parents," they wrote.
Others have speculated whether he had simply gone out to the roof during a rush for the bathroom.