Russian zoo sues ad agency for using raccoon in 'erotic' shoot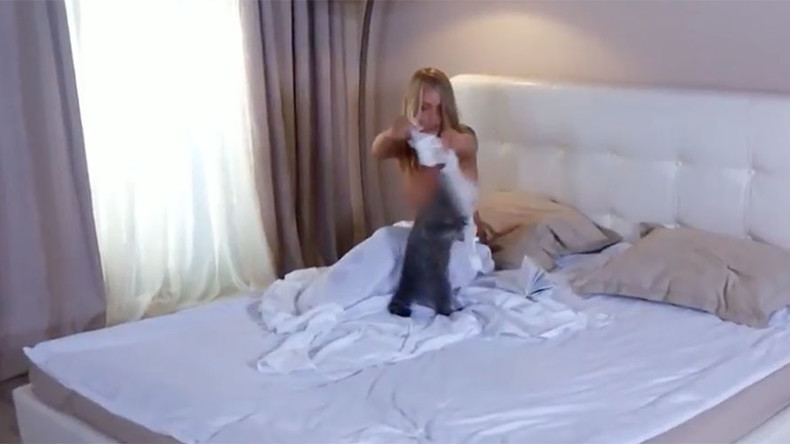 A Moscow petting zoo is suing advertising agency Art-Msk for using one of its raccoons in what they call inappropriate "erotic content."
The "Zveryushki ne Igrushki" (animals are not toys) petting zoo rented one of its raccoons in August 2016 to Art-Msk, a local advertising agency that was shooting an ad for a lingerie brand. During the shooting, the raccoon allegedly stole the actress's bra and the crew filmed that moment and later posted it online.
The zoo staff was less than impressed by such humor, and filed a complaint in court stating that such behavior was detrimental to the animal.
"We absolutely did not like it because our zoo is focused on kids," Viktor Kiryukhin, PR director of the petting zoo, told 360TV.
Art-Msk ignored the zoo's request to take down the video from their website and the court didn't open a case in October last year, so the zoo filed a new complaint on Tuesday.
Meanwhile, the agency says it is the actual victim in the whole story.
"We still haven't handed our work to the client, they are waiting for these issues to be handled and only after everything is resolved they agree to pay. We feel like we're the victims here," Valeriy Bogatov, head of video marketing at Art-Msk, told 360TV.
According to Bogatov, the ad agency is now considering filing its own lawsuit against the zoo, to demand compensation for the purloined bra.
There has also been speculation that the whole story was fabricated for public relations, as back in April and June the company posted a listing on their website about a raccoon:
"Do you have a raccoon? Do you want the media to write about your zoo? Do you love a good scandal? We're here to help!"
Bogatov told 360TV that it's true that they were planning a bit of a scandal, but only after the video was out.
"This story blocked the issue of the ad and is really getting in the way of what we originally had in mind," Bogatov said.