Train hurls snow bomb at commuters (VIDEOS)
Published time: 16 Mar, 2017 09:30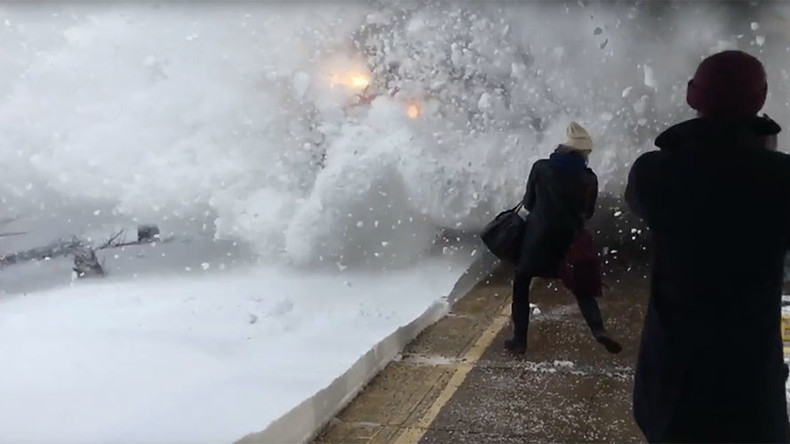 Commuters were challenged to a snowball fight by an Amtrak train when it hurled a wall of snow into the air and on to a platform in New York. Despite the icy onslaught, some determined people managed to capture the explosion of white powder on camera.
YouTuber Nick Colvin was standing on the platform when the train arrived into Rhinecliff Station on Wednesday. With a fresh blanket of snow provided by Storm Stella, the train speeds towards the platform, sending the fresh snow into the air and on to the platform, all captured in beautiful slow motion by Colvin.
Standing further down the platform, in a slightly safer position, Craig Oleszewski also captured the moment the train barreled into the station, the first since the storm began. Some commuters were knocked to the ground by the wave of snow, reported News 4.
Social media users have questioned whether the train was arriving at the platform too fast. Railroad expert Gus Ubaldi defended Amtrak, telling News 4 it was going at the appropriate speed to clear the snow off the track, but that commuters shouldn't been allowed to stand so close.
Storm Stella wreaked havoc on the US East Coast in recent days, closing schools, grounding flights and making travel impossible in some areas. States of emergency were declared in several states along the east, including New York, New Jersey and Maryland.
READ MORE: Nearly 100,000 without power as snow, sleet & strong winds lash Northeast