Driver hits child playing with toy gun 'to teach him a lesson' (VIDEO)
Published time: 15 Mar, 2017 14:53
Edited time: 15 Mar, 2017 17:10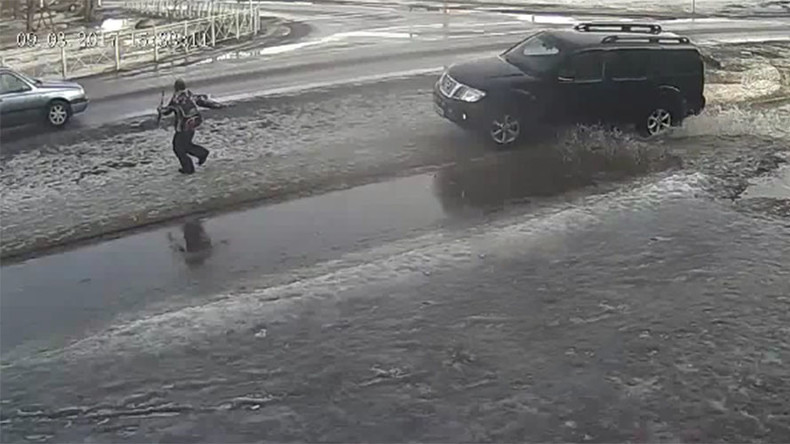 A shocking video of a Russian driver ramming into a boy and then making him stay on his knees on the icy road until the police arrived emerged on the internet this week.
The incident took place in Priozyorsk, near St. Petersburg in northern Russia. At the beginning of the video, two boys are seen playing with a toy gun by the road, when a black 4x4 takes a sharp turn and heads directly for the children – apparently targeting them for pointing the toy at the car.
As the boys flee, the driver pursues the older-looking boy and eventually hits him, sending the boy off the sidewalk and onto the road.
The driver is then seen getting out of the car and dragging the boy to his vehicle, before forcing him to kneel down and wait for the police.
The man was angry with the boys for pointing a gun at him, and decided to 'teach them a lesson' by running over the boy and then hitting him, local outlet 47news reported, citing the Investigative Committee.
When the police arrived, they let the driver go and drove off with the child – all seen on tape.

"I was playing with a boy by the road. Then this car turned around and hit me. And then a man got out and hit me here, and then here," the boy, Ivan Shchegolev, said in an interview with 5TV, pointing to his ear and jaw.
A medical check-up revealed that the boy had suffered a blow to the side of his head and a concussion. He is still in hospital.
The Investigation Committee will look into why the police let the driver go while the suspect himself, Vladimir Belsky, a 54-year-old entrepreneur from Priozyorsk, is now facing criminal charges.
The boy's father told 5TV that when the police brought his son home, they failed to mention that he had been hit by a car.

"The driver told me he will get away with it because he is a businessman," the father said.
The incident took place on March 9 and emerged on the internet a few days later – with Belsky failing to report himself to the police and lying to the media about not being responsible, even though his actions were clearly visible on tape, the Investigative Committee stated.