'False flag': Turkish protesters burn wrong tricolor in anti-Dutch government demo (VIDEO)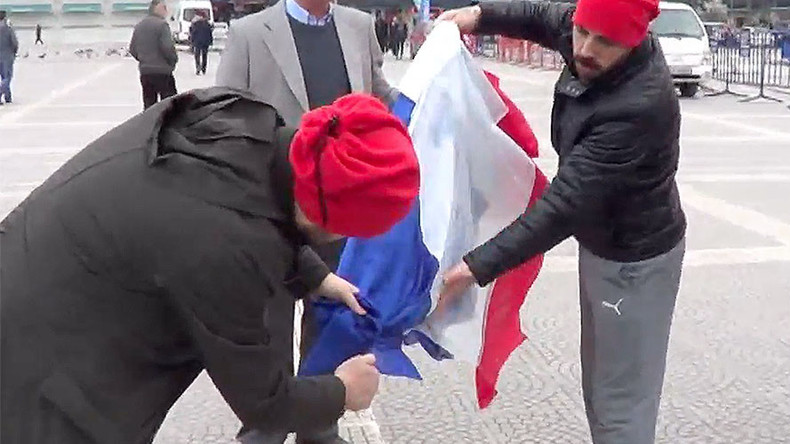 A group of Turkish demonstrators have been left red-faced after a video of them setting what they thought was a Dutch flag on fire circulated online. Social media users were quick to mock the group, claiming it was actually a French flag.
The men were reportedly protesting the Dutch government's refusal to let Turkish ministers address a rally in Rotterdam on Saturday in the latest development in a diplomatic spat between the two countries.
The video shows a group of men gathered at Cumhuriyet Square in Samsun, in northern Turkey on Saturday. They douse the flag in lighter fluid and set it alight.
"It is not anyone's capacity to humiliate the Turkish nation," Ömer Zozik from Samsun explained, as reported by the Gazete Duvar. "We as Turkish youths are ready for death at any moment everywhere for our country and our flag even at the expense of our lives."
The men then sing the Turkish national anthem as the crumpled flag slowly catches fire and burns.
READ MORE: From trolling to insults: How Dutch-Turkish row escalated quickly, in 9 quotes
Tensions between Turkey and the Dutch have quickly escalated over Turkey's political campaigning abroad. The two countries have been at odds since last April, when the Netherlands warned Ankara against interfering in its affairs after a Turkish consulate official asked Turks living in the Netherlands to inform the consulate about people insulting Turkey.
The row has seen a Turkish minister being deported from The Netherlands and the country's foreign minister banned from flying to the Netherlands.
On Sunday, demonstrators in Istanbul replaced the Dutch flag outside the Dutch consulate with a Turkish one. The Dutch embassy and consulate in Turkey have been closed over security concerns.
Turkish President Recep Tayyip Erdogan said the Netherlands was acting like a "banana republic" on Sunday, and described the country as "Nazi remnants" on Saturday. Dutch Prime Minister Mark Rutte said Turkey should apologize for the inflammatory statements.
The Netherlands is days away from a general election, while Turkey has an upcoming referendum to expand Erdogan's presidential powers. The increased presidential powers include the ability to declare emergency rule, appoint ministers and dismiss parliament.