4Chan sleuths use 'flight patterns' to track down & capture Shia Labeouf's anti-Trump flag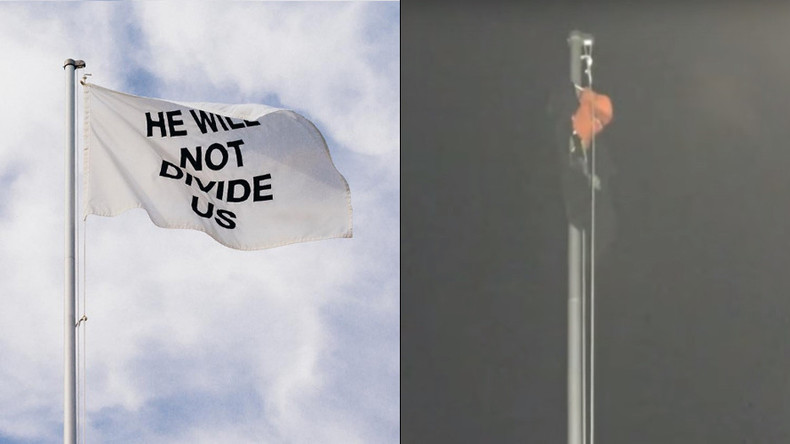 An anti-President Donald Trump flag livestreamed from a secret outdoor location has been stolen by online sleuths, who painstakingly monitored flight and weather patterns to track down the symbol of the "He Will Not Divide Us" movement.
Marshalled by Hollywood actor Shia Labeouf, the "He Will Not Divide Us" project is a response to Donald Trump's election as the 45th president of the United States.
The project has become famous for its troubled livestreams, where followers turn out at different locations to chant "He Will Not Divide Us" into a camera.
The crew's February stream outside the El Rey Theater, Albuquerque, was abandoned after shots were fired in the area. LaBeouf was also arrested at one exhibition for punching a man who made a comment about Hitler into the live feed.
READ MORE: Shia LaBusted: Actor LaBeouf arrested for assault at anti-Trump protest (VIDEO)
On March 8, the decision was made to livestream a flag emblazoned with the group's message in an "unknown location" for the duration of Trump's presidency.
But in a matter of hours, saboteurs figured out Labeouf's flag hideaway was in a Tennessee field, despite only having views of the sky to go on.
Footage shows how the flag was replaced by a Trump T-shirt and a "Make America Great Again" hat.
Comments on Reddit, 4Chan and Twitter suggest the flag's capture was aided by online sleuths studying "plane contrails" and even star patterns.
Screengrabs from a 4Chan message board also suggest weather forecasts were also monitored.
Another, and perhaps the most telling giveaway of the flag's location, was a recent picture of LaBeouf in a Greeneville, Tennessee cafe.
While social media has gone wild over the bizarre game of "capture the flag," not everyone is convinced of the investigative methods.
"The feat is impressive enough without having to pretend that stars and contrails contributed," wrote one Reddit user, adding: "In the end it was good old-fashioned luck and manpower that accomplished the capture."
Another claimed: "The planes may have helped a little, but the stars and sh*t are bulls*t".
You can share this story on social media: