Firefighter dies in tragic fall from 'highest' billboard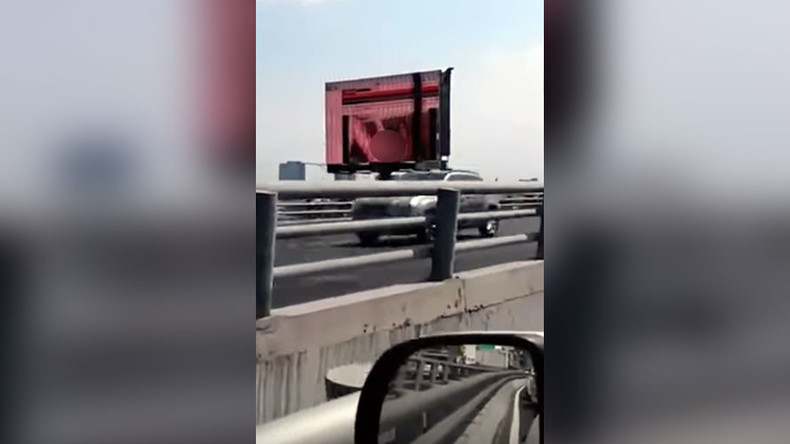 Correction. Weekend reports circulated to the effect that a firefighter plummeted to his death in Mexico City while trying to turn off a hacked roadside billboard streaming porn.
In light of comments from our social media community and developing news, RT learned that although a number of local and international outlets reported that Alvaro Jimenez Gonzalez died on Friday while trying to disable a billboard displaying porn, two stories were conflated by a number of Mexican news outlets and we are now correcting the record.
Gonzalez did suffer a fatal fall from a billboard in Mexico City at around 5pm on Friday while removing a large piece of tarp from the structure, according to Noticias MVS.
It's reported, however, that the 20 meter-high billboard is known locally as being the "highest in the world" and that Gonzalez was not using a harness at the time. The billboard, however, is not the same one which was hacked to broadcast porn, contrary to initial reports.
Paramedics treated Gonzalez at the scene before transferring him to a nearby hospital, where he later died.
"We deeply regret the death of our comrade Alvaro Jiménez González de Bomberos Tacubaya,"said Raúl Esquivel, head of the fire department. "All the support of the institution and the government of Mexico City for the family of our partner."
At the same time and less than 2km south of the the billboard Gonzalez was tending to, another Periférico highway billboard was hacked and began streaming porn.
The billboard operator, Grupo Carteleras, tweeted to inform motorists that the billboard had been switched off, condemning those responsible.
Local authorities urged the company to reinforce security measures to avoid a repeat of the incident which cost the firefighter his life.
As noted by local media, both incidents were reported as one when the initial details of the firefighter's death emerged due to their close proximity. RT has also amended the story accordingly and apologizes to our readers.