Has Gold Star father Khizr Khan had his 'travel privileges' revoked?
Published time: 6 Mar, 2017 23:01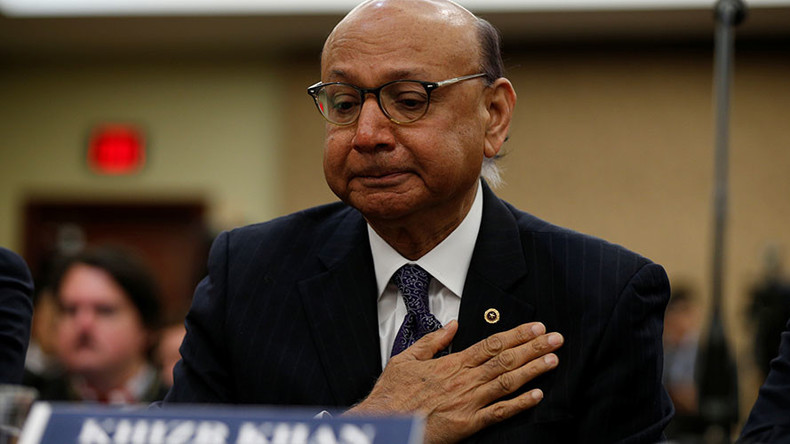 Khizr Khan, the father of a US veteran who died in Iraq, and a former target of President Donald Trump's election attacks has reportedly cancelled an appearance in Canada due to his "travel privileges" being reviewed.
CTV News producer Rosa Hwang tweeted that Khan canceled his scheduled speech in Toronto after reportedly being told his "travel privileges are being reviewed" on Sunday.
JUST IN: Gold Star father Khizr Khan cancels scheduled speech in Toronto after being told his "travel privileges are being reviewed." pic.twitter.com/3dXFMnjced

— Rosa Hwang (@journorosa) March 6, 2017
Khan was due to speak at a luncheon in Toronto on Tuesday and, soon after Hwang's post, Ramsey Talks, the organization arranging the event, posted on its Facebook page, which has 378 Likes, that it would be cancelled.
"Khan, an American citizen for over 30 years, was notified that his travel privileges are being reviewed," the post read. "As a consequence, Mr. Khan will not be traveling to Toronto on March 7th to speak about tolerance, understanding, unity and the rule of law. Very regretfully, Ramsay Talks must cancel its luncheon with Mr. Khan."
According to the post, Khan expressed his regret that he would be unable to attend. "This turn of events is not just of deep concern to me but to all my fellow Americans who cherish our freedom to travel abroad," he is quoted as saying in the post. "I have not been given any reason as to why. I am grateful for your support and look forward to visiting Toronto in the near future."
Khan told CTV News "I have no comments to make."
CTV News reached out to Mr. Khan. His response: "I have no comments to make."

— Rosa Hwang (@journorosa) March 6, 2017
According to the event page, Khan was set to speak about "what we can do about the appalling turn of events in Washington."
It isn't clear from whom Khan received the reported notice of his travel privileges being reviewed, while some on social media have speculated that Ramsey Talks could be misleading the public with its announcement. RT has contacted Ramsey Inc., the company behind Ramsey Talks, for further clarification.
@journorosa "No comments to make" because the organizer of the event is the one making the claim. You guys are jumping to conclusions...

— LMcLaughlin (@isuperblast) March 6, 2017
CBC reporter John Paul Tasker tweeted to say Khan was also due to appear on The Current show on Tuesday.
Khizr Khan, the Gold Star dad, was scheduled to be on @TheCurrentCBC tomorrow while in T.O., now "travel privileges are being reviewed." #hw

— John Paul Tasker (@JPTasker) March 6, 2017
People have expressed anger that an American citizen could have their travel impeded, with many questioning the fact that US citizens don't need any sort of "travel privileges" to visit Canada.
This doesn't make sense. Is Canada refusing to take him? https://t.co/j5o8cOhlE0

— Igor Bobic (@igorbobic) March 6, 2017
@igorbobic I read this as the US is refusing to guarantee he would be alllowed back in should he leave.

— Jada Marne (@JadaMarne) March 6, 2017
@journorosa There is no review process for American citizens who wish to travel. If Mr Khan was threatened with one, it's illegal as hell

— Brazenly☮Liberal (@BrazenlyLiberal) March 6, 2017
Khan became a target for Trump after he spoke at the Democratic National Convention in July, where he slammed the then controversial presidential candidate for his comments about Muslims and his campaign rhetoric about a Muslim ban.
"Donald Trump consistently smears the character of Muslims, he disrespects minorities, women, judges, even his own party leadership," Khan said. "He wants to build walls and ban us from this country."
Trump responded by implying Khan's wife wasn't allowed to speak while also tweeting about the Khans.
I was viciously attacked by Mr. Khan at the Democratic Convention. Am I not allowed to respond? Hillary voted for the Iraq war, not me!

— Donald J. Trump (@realDonaldTrump) July 31, 2016
Khan's son died in Iraq in 2004 and received a purple heart and gold star for his work in the military.