Sweaty hunks make women's undies in racy ad… & internet loves it (VIDEO)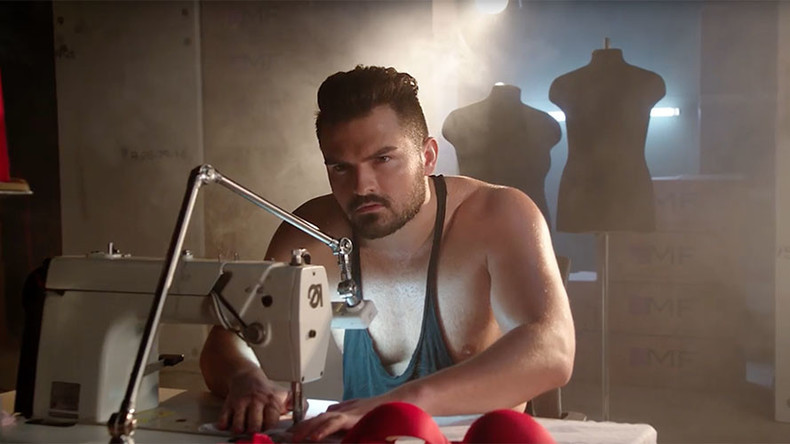 In the glare of forges, sweaty torsos, and rippling muscles... that's how one Belorussian company makes women's underwear, at least if its latest ad is to be believed.
A new sexy, viral advert released ahead of International Women's day shows half-naked guys making lingerie, from hand-forging bra hooks to crash-testing lacy panties. With almost half a million views, barely anyone is complaining.
One might expect that such an ironic advertisement coming from a family-focused brand like Mark Formell would have sparked more debate on "objectivization," but Russian-speaking internet users don't seem to be bothered. In fact, quite the contrary – they have left hundreds of positive comments on Instagram and YouTube.
"Thank you for this video! After a meeting that lasted half-a-day and did my head in, to see something like this… I feel like celebrating 8th of March and to remembering that I'm a woman, not a robot," one delighted comment on YouTube goes.
The brand, which was founded in 2009, is a leader on the Belorussian market and has a significant social media outreach program targeting a youthful audience.
Instagram user mari_hurricane reacted to the video:
"This is really something. Well done! Makes me want to buy some undies."
Although most of the comments came from women, some men joined in the mostly light-hearted debate, pointing out how they don't feel objectified in the slightest.

To be fair, not everyone is amused.
"I don't understand your policy?! I thought Mark Formelle was something cozy, homey. And here you make everything look ambiguous. It's vulgar," kristina_koleda complained on Instagram.
This reaction was not to be unexpected, as the company's Instagram account is predominantly family-friendly.
Russia and former Soviet states traditionally celebrate International Women's Day on the 8th of March, which is an official day-off-work holiday, when women expect presents and attention.
Watch the full video:
After the video went viral, the company decided to schedule a follow-up photo shoot for March 8 with the stars of the hit ad.
A photo set copying the one featured in the video will be built in a popular shopping mall in Minsk, and anyone can take part. The organizers just warn participants against getting too excited, as everything will be documented on video.