Burnt alive? Woman declared dead by doctors might've still been breathing when cremated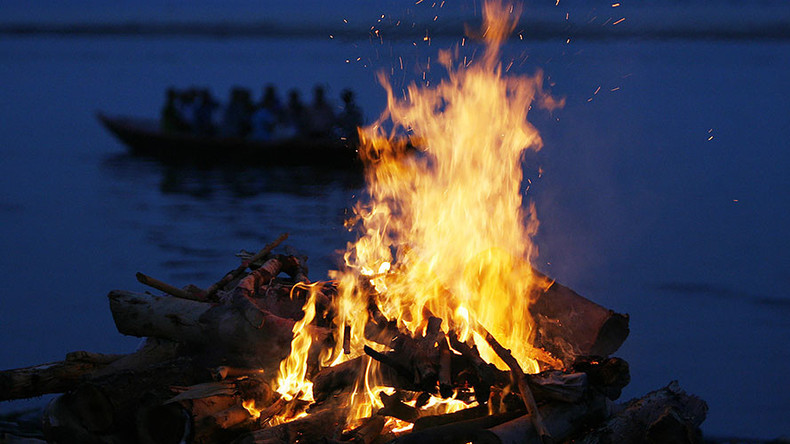 Police in India are investigating whether a woman pronounced dead by doctors and cremated by her husband near the city of Greater Noida was in fact burned alive.
On February 25, doctors at the Sharda Hospital in the northern state of Uttar Pradesh pronounced Rachna Sisodia, 24, dead following complications with her lungs.
READ MORE: Indian protester tries to burn 'effigy', accidentally sets himself on fire (PHOTOS)
Citing hospital sources, the Times of India, report how Sisodia was declared clinically dead at 11.45 pm before her body was then whisked away by her husband for a traditional cremation the next morning.
However, the cause of woman's death is being disputed by her family, who have accused Sisodia's husband of burning the 24-year-old while she was still alive.
According to the Hindustan Times, Sisodia's family called the police upon learning of an arranged cremation in the Aligarh district of Uttar Pradesh, just hours after her body was released from hospital.
An autopsy conducted on the charred remains has shown ash particles in her lungs and windpipe, indicating that Sisodia may have been breathing when her body was set alight on a funeral pyre.
A two doctor panel called in to assess the case concluded that she died of "shock caused by being burnt alive".
Police superintendent Rajesh Pandey stated the same cause of death to the Hindustan Times.
"The cause of death is shock due to being burnt alive," he said.
READ MORE: Protests in India after police try to forcibly cremate body of twice raped, burnt 16yo girl
The woman's husband, Devesh Chaudhury, has also been accused of sexually assaulting his wife prior to her death. While police are looking into the matter, he has denied any wrongdoing.
"Rachna had fallen ill and I tried my best to provide better medical treatment. The Greater Noida Hospital had declared her dead upon which we performed the cremation," Chaudhury told the Times of India.