Black bear cub plunges from helicopter during failed airlift (PHOTOS)
Published time: 1 Mar, 2017 17:02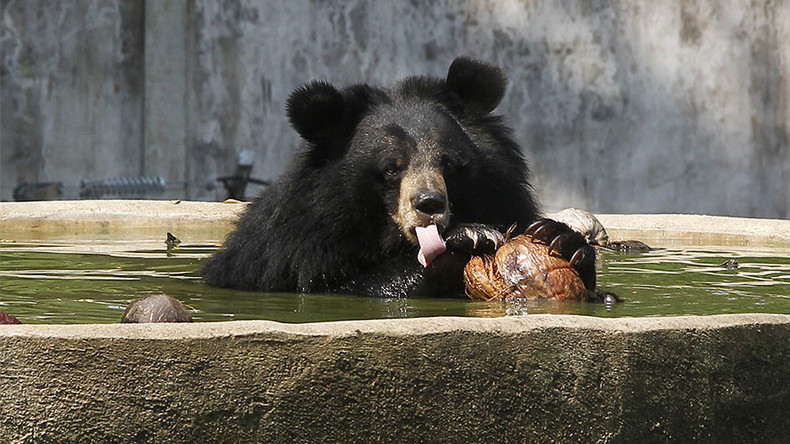 Thai officials are investigating the death of a bear cub after it plummeted from a helicopter as it was being transported to a new area of a wildlife park.
The Asian black bear was being airlifted to a more forested part of Khao Yai National Park, southern Thailand, when the bizarre incident unfolded.
According to Thairath news, officials from Thailand's National Parks, Wildlife and Plant Conservation have admitted that an operation to move the bear went catastrophically wrong on February 11, resulting in the animal's death.
The bear, which weighed around 90kg (200lb), was being carried in netting beneath a single rotor chopper to be resettled away from urban dwellings. Pictures prior to the airlift published by Thai PBS News appear to show the animal being prepared for lift-off, as well as the shocking aftermath.
It's not yet clear what caused the incident, however, initial inquiries suggest that unexpected turbulence resulted in the net becoming detached from the helicopter, reports the Bangkok Post.
It has also been reported that the tranquilized bear may have woken up mid-flight and dropped to the jungle floor.
READ MORE: 500 animals die at British zoo that left a monkey to rot behind a radiator
Thongchai Saengprathum, secretary of the Khao Yai Foundation, a charity which supports the wildlife park, has criticized the botched attempt to move the animal.
"Asian black bears are social animals that need to stay with their packs. Flying the bear to a new location could end up with it being killed by other bears," Saengprathum told the Phuket Gazette.
"Officials were also careless in calculating the weight of the bear to give the correct dose of tranquilizer to prevent it from waking up during the operation. It should also have been put in a cage."
The Asian black bear population is under threat in southeast Asia due to widespread hunting and development in their natural habitats, according to the World Wildlife Fund.
"Illegal hunting for body parts, specifically the gall bladder, paws and skin poses the main threat, together with habitat loss caused by logging, expansion of human settlements and roads," the animal protection group has said.