'If only this happened on election night': Internet reacts to Oscars blunder
Published time: 27 Feb, 2017 09:52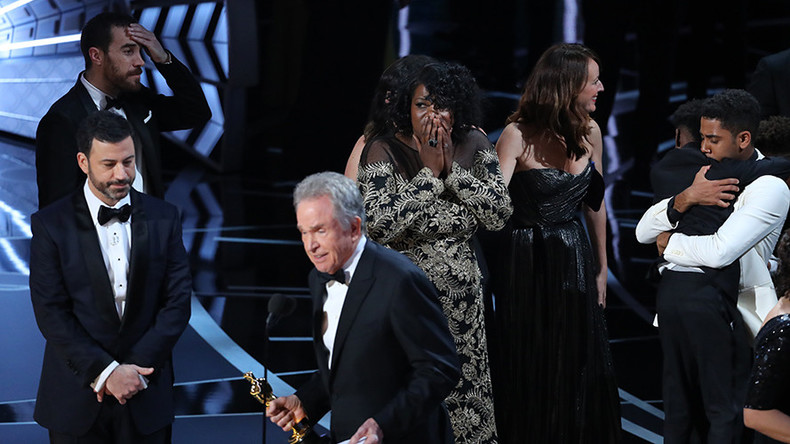 This year's Oscars outdid themselves, with the biggest awards show on the planet managing to mismanage an envelope in an embarrassing blunder scathingly compared online with Steve Harvey's Miss Universe gaffe and the recent US election.
READ MORE: La La Land mistakenly announced as Best Picture at Oscars; Moonlight wins (VIDEO)
Warren Beatty and Faye Dunaway incorrectly presented the Best Picture award to 'La La Land', with some jokingly accusing the past Hollywood stars, who portrayed notorious criminals Bonnie and Clyde, of partaking in "one last job."
Others online were quick to point the finger of blame at Dunaway, who read the card despite the obvious reluctance by her co-presenter Beatty.
Moments later the error was declared by a producer for 'La La Land', who had joined the movie's crew on stage to accept the illustrious honor. 'Moonlight' was revealed as the actual winner after 'La La Land' had already given its acceptance speech.
"This is not a joke," 'La La Land' producer Fred Berger said.
"There's a mistake. 'Moonlight' you guys won Best Picture. 'Moonlight' you won Best Picture. 'Moonlight' Best Picture."
Beatty tried to explain the blunder to the audience. But it was too late. Social media was on fire as Twitterati pointed out embarrassing comparisons to Steve Harvey's famous Miss Universe blunder, in which he named the runner-up as the winner.
Those in attendance put on their shocked faces, in a rare moment of genuine emotion from those who usually charge millions for an expression on camera.
"I really really wish this happened election night" was a sentiment echoed by Hillary Clinton supporters in their tweets, wishing the Democrats loss had been a simple envelope error.
Others took to Photoshop, albeit rather crudely, to mock the moment.