Cold front cargo: Ice chunk falls off plane, smashes through house (PHOTOS)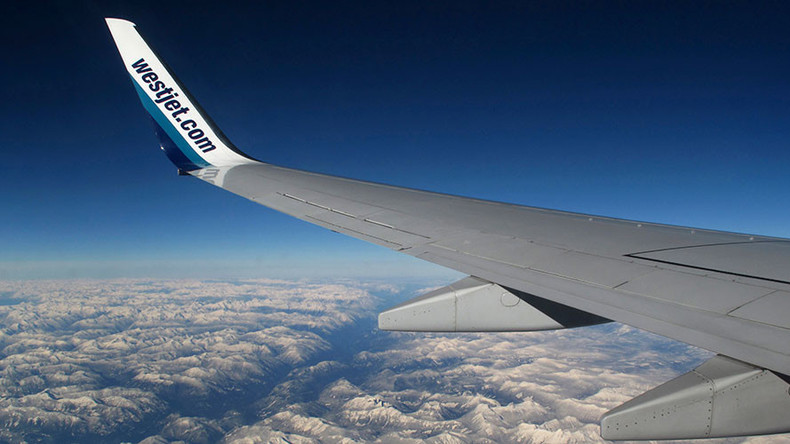 A large chunk of ice measuring about the size of a dinner plate fell from an overhead passenger plane on Friday, crashing straight through the roof of a residential house in Calgary, Canada.
An investigation is underway into how the ice chuck, measuring 30cm in diameter, became dislodged from the WestJet passenger plane and smashed through the roof and main floor of the home to land in the basement.
"A preliminary investigation of the situation with Nav Canada indicates the ice did fall from a WestJet Encore Bombardier Q400 on approach into Calgary from Regina," WestJet spokesperson Lauren Stewart was cited as saying in a report by the Weather Network.
WestJet has reportedly agreed to pay for the damages to the suburban home.
READ MORE: 5 killed as plane smashes into Melbourne shopping mall – Victoria police (VIDEO)
The incident happened while Theresa Couch and husband Richard were at home watching ice-hockey on television when the ice chunk crashed into their home from the skies above.
"It sounded like things falling all over the place. We came into the kitchen and there was nothing out of place. Then my husband went into the hallway … and there was ice all over the rug and debris, and all the way down the stairs into the basement and a big, huge hole in the ceiling," Ms Couch was quoted as saying by CBC News.
This is not the first instance that a Calgary home has been struck by dislodged ice falling from an aircraft. In 2008, a similarly sized chunk came off a plane and hurtled through the roof of another home.
In a more severe incident in 2015 in London, a man believed to be a stowaway plummeted from a British Airways plane and landed on a shop roof along the flightpath to Heathrow airport.
READ MORE: ​Stowaway falls to death in London after plane wheel ride from S. Africa