Yes we can? Petition launched for Obama 2017 French presidential campaign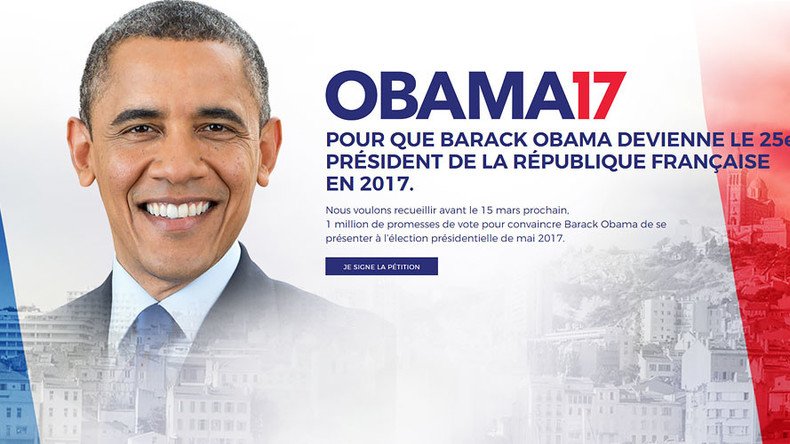 A "radical" campaign is underway in France to make Barack Obama the next French president – despite at least one glaring obstacle to the move: he's not a French citizen.
The political drive is aiming to collect one million voting pledges for the former US president and Nobel prize winner by March 15, and is being pushed with a series of 'Obama 17' posters across Paris.
A website dedicated to the cause states that "Barack Obama has the best resume in the world for the job," and urges radical thinking from the electorate: "To launch this 6th Republic, we wish to strike a blow by electing a foreign President at the head of our beautiful country."
The statement goes on to explain that this is a fight back against the growth of extreme right parties in the country.
READ MORE: Marine Le Pen is now leading among French voters – poll
"Because at a time when France is about to vote massively for the extreme right, we can still give a lesson of democracy to the planet by electing a French President, a foreigner," the campaign urges.
The group is also calling on the mayors of the country to vouch their support for the long-shot candidate.
Of course, the tiny problem of Obama not having French citizenship prevents the former US leader from standing in the presidential election. Even if this wasn't an issue, it appears that after two terms in the White House the former US commander-in-chief is enjoying some down time.
The French presidential election kicks off with the first round on April 23. If no candidate wins an outright majority, a run-off election between the top two candidates would take place on May 7.
READ MORE: Police search Le Pen's National Front HQ over alleged misuse of EU funds
You can share this story on social media: