Puppy takes heroin overdose while owners 'scam' Home Depot
Published time: 22 Feb, 2017 17:41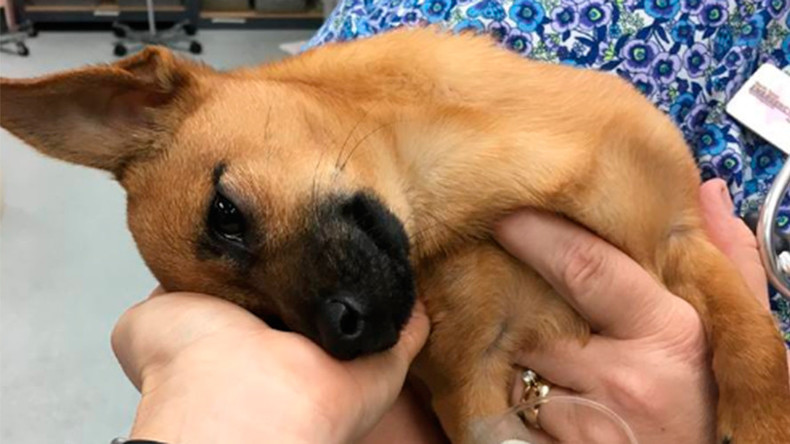 A young puppy was lucky to escape with its life after accidentally overdosing on heroin while his owners were allegedly trying to switch price tags in a Home Depot.
The pup was waiting in a parked truck as his owners were in the store in Carrollton, Texas. When Thomas Romero and Nina Crawford, were arrested for changing price tags they told police they had a dog in their car.
"Officers went out to the parking lot and sure enough found the puppy on the floorboard of the passenger side… And it wasn't in good shape," Carrollton Police Department spokeswoman Jolene DeVito told local TV station WFAA.
"We weren't sure exactly what was going on with it, but there was drug paraphernalia," Devito explained. "Eventually we did find drugs in the car and made sure the puppy got medical attention right away. Sure enough, he was basically suffering from a heroin overdose."
The tiny 4-month-old Chihuahua mix was rushed to veterinarian Stacie Fowler desperately clinging to life and on "the verge of not breathing".
"If he'd not received treatment he would've stopped breathing," Fowler said.
After recovering from the opiate overdose the dog was brought to Carrollton animal services where staff named him, appropriately, 'Lucky'.
Carrollton police thanked the veterinarian and her colleagues for saving the young pup in a post on their Facebook page.
The dog's owners face charges of possession of a controlled substance/heroin and fraudulent destruction, removal or concealment of writing. They have 10 days to claim 'Lucky'. After that, the pooch will go up for adoption.