Self-driving robot cars reach 186kph on racing debuts (PHOTOS, VIDEOS)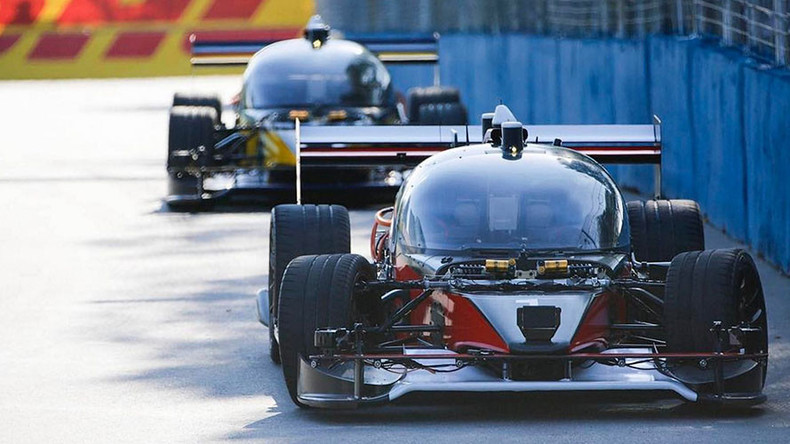 History was made in Buenos Aires last weekend when two driverless electric cars went head-to-head in the first competitive robot motor race. The event was part of the organizers' aim to expand the sport's popularity with a worldwide rollout of Roborace.
In scenes more akin to a sci-fi movie the competing 'Devbot' machines reached top speeds of 186kph (115mph) before one of them lost control and ploughed into a barrier at the Argentinian Formula E, ePrix.
Speeds reached, however, are still a long way off the 320kph speed of human-controlled racing cars. Formula E is the electronic equivalent of the Formula 1 single-seater racing series.
Devbot 2 while pushing the boundaries of AI had a racing incident on track, leaving Devbot 1 to win. No drivers were harmed though😉 #BAePrix

— Roborace (@roborace) 18 February 2017
The eventual aim for the company, named Roborace, is to create a robot racing league, in which identical Robocars will compete for the title. How competitive they will be will depend on their human engineers – the rest is up to them.
Roborace, as the name suggests, is a racing series exclusively for robots. The company is a start-up, which specializes in developing high-powered self-driving racing cars.
READ MORE: Raptor legs & human hips: Giant leap for walking robots
The Devbots have space for a human driver, allowing developers to test the handling and software developments. But, once racing, the machines are completely autonomous.
Devbots are the second iteration from Roborace, the first being the stunning Robocar' designed by Hollywood special effects wizard, Daniel Simon, famed for his work on 'Tron: Legacy' and 'Captain America The First Avenger'.
You can share this story on social media: